Intel executives held a press conference at CES 2013 to outline plans to accelerate new mobile device experiences across the company's growing portfolio of smartphone, tablet and ultrabook offerings.
The announcements included a new smartphone platform for emerging markets, details on a forthcoming 22nm quad-core SoC for tablets, and more personal and intuitive ultrabook devices in convertible designs were outlined by Mike Bell, vice president and general manager of the Mobile and Communications Group, and Kirk Skaugen, vice president and general manager of the PC Client Group at Intel.
Intel Inside smartphones
Intel unveiled a new low-power Atom processor-based platform (Lexington) and smartphone reference design, targeted at the value smartphone market segment, which industry sources predict could reach 500 million units by 2015. Customers announcing support for the platform include Acer, Lava International and Safaricom.
The new platform brings Intel's product strengths to this fast-growing smartphone market segment, including performance for quick Web browsing, and a great multimedia and Android applications experience, said Intel.
The new value offering includes features including the Intel Atom processor Z2420 with Intel Hyper-Threading technology that can achieve speeds of 1.2GHz, 1080p hardware-accelerated encode/decode, and support for up to two cameras capable of burst mode that allows people to capture seven pictures in less than a second in 5-megapixel quality. The platform also includes the Intel XMM 6265 HSPA+ modem that offers dual-Sim/dual-Standby capability for cost-conscious consumers.
Bell also highlighted the forthcoming Intel Atom Z2580 processor platform (Clover Trail+) targeted at performance and mainstream smartphones. The platform includes a dual-core Atom processor with Intel Hyper-Threading Technology, and also features a dual-core graphics engine. He said the new platform will deliver up to two times the performance benefits over Intel's current-generation solution (Intel Atom processor Z2460 platform), while also offering competitive power and battery life.
Tablet roadmap expanded with upcoming quad-core Intel Atom processor
Bell reinforced the wide range of tablet designs based on the Atom Processor Z2760 running Windows 8 now on shelves and online from OEMs such as Acer, Asustek Computer, Dell, Fujitsu, Hewlett-Packard (HP), Lenovo, LG and Samsung. More tablet designs are scheduled to ship over the coming weeks, Intel said.
He also unveiled details about the company's next-generation 22nm Atom SoC, codenamed Bay Trail, which is already booting and scheduled to be available for holiday 2013. The first quad-core Atom SoC will be the most powerful Atom processor to date, delivering more than two times the computing performance of Intel's current generation tablet offering, the company claimed. It will also include new improved integrated security offerings which will enable new experiences for business and personal use in devices as thin as 8mm that have all-day battery life and weeks of standby, all at lower prices.
Low power fuels ultrabook innovation
Skaugen announced that the company is bringing the low-power line of processors into its existing third-generation Intel Core processor family. Available now, these chips will operate as low as 7W, allowing manufacturers to have greater flexibility in thinner, lighter convertible designs. Currently there are more than a dozen designs in development based on this new low-power offering in mobile form factors including tablets and ultrabook convertibles. The Lenovo IdeaPad Yoga 11S ultrabook and a future ultrabook detachable from Acer will be among the first to market in spring 2013 based on the new Intel processors and were demonstrated by Skaugen on stage.
Skaugen disclosed that new systems based on the fourth-generation Intel Core processor family are expected to deliver up to nine hours of continuous battery life.
To demonstrate the impact of the fourth-generation Intel Core processor family, Skaugen showed a new form factor ultrabook detachable reference design (North Cape) that converts into a 10mm tablet and can run on battery for up to 13 hours while docked.
Advancements made in the way consumers will interact with their computing devices were also demonstrated, including natural and more immersive interaction experiences using a 3D depth camera. Intel showed applications running on an ultrabook in which objects can be manipulated naturally with movements of the hands, fingers, face and voice. One application that was demonstrated can be used for enabling new and immersive video collaboration and blogging experiences. These were all enabled using the Intel Perceptual Computing SDK Beta. In 2013, Intel expects more ultrabooks and all-in-one (AIO) systems to offer applications for voice control (Dragon Assistant) and facial recognition (Fast Access) for convenience and freedom from passwords.
During the event, Skaugen also demonstrated new adaptive AIO systems that have a battery built into the screen and can be picked up and easily moved around the home or office as needed. Adaptive AIOs are high-performance computers with large touch-enabled screens that can be used as a multi-user touch gaming system, or as an interactive art creation device, as well as for many other shared, in-person experiences.
Intel also discussed its ongoing work with video service providers around the globe such as Comcast and Bouygues Telecom to create television experiences that will allow customers to view live and on-demand pay TV content. Intel is collaborating with Comcast to bring the Xfinity TV experience to multiple screens in the home including ultrabook devices, and Intel-based AIO PCs and tablets.
This is made possible by the Intel Puma 6MG-based XG5 multi-screen video gateway developed by Arris. This new category of devices allows any screen in the home to access live and on-demand entertainment premium content. Intel is also working with Bouygues Telecom to bring customers in France the Bbox TV experience to these same Intel-based devices. Consumers will experience both live TV and video on demand anywhere on the Bouygues Telecom network.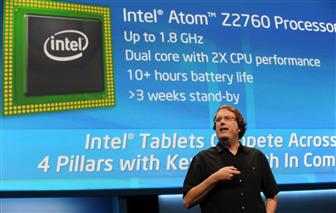 Intel executive Mike Bell details the latest roadmap at CES 2013
Photo: Company

Intel introduces new Atom Z2420 processor
Photo: Company