AMD has announced the immediate availability of the AMD FirePro W600 professional graphics card, the company's first professional graphics card to leverage AMD's Graphics Core Next architecture and 28nm production technology, for use in high-resolution, content-rich, multi-screen display wall environments. With this launch, AMD is addressing a growing need for large, dynamic screens that are easily updated with new content.
System integrators and display installation builders are rapidly replacing single, low-resolution displays with the latest in HD LED, LCD and plasma technologies that can reach audiences on massive, high-resolution screens grouped together to form a single image or divided into multiple streams of information. The thinner, lighter and increasingly cost-effective nature of these technologies makes multi-screen display walls attractive to a range of companies, including those in the advertising, entertainment, operations, security, training and video-conferencing markets.
The AMD FirePro W600 Professional Graphics card can support up to six high-resolution displays or projectors from a single-slot card and six mini DisplayPort connectors, while the card also equips 2GB of GDDR5 graphics memory for multimedia performance.
The card also supports two HD video streams via AMD's Unified Video Decoder and features projection overlap capability to create one seamless image, with planned support for projection edge blending and image warping in the fourth quarter of 2012. Furthermore, it also features AMD's PowerTune technology to dynamically optimize power consumption during operation as well as ZeroCore Power technology to provides reduced power consumption at idle.
The AMD FirePro W600 professional graphics card joins a range of products for configuring displays with two to six screens, including the ATI FirePro 2460, AMD FirePro 2270, AMD FirePro V7900 and ATI FirePro V9800.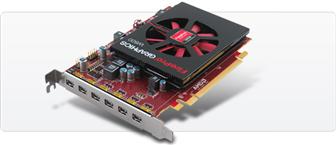 AMD FirePro W600 professional graphics card
Photo: Company