AMD has launched the AMD FirePro V3900, which enables excellent workstation experiences at an entry-level price point. By leveraging AMD's latest graphics features, including AMD Eyefinity technology, the AMD FirePro V3900 provides up to 95% better application performance than the competition. The AMD FirePro V3900 will be available in select workstation systems and will be sold for US$119 at select online resellers.
Engineered for professionals looking for optimized graphics performance at entry-level pricing, the AMD FirePro V3900's 1GB of DDR3 RAM drives memory bandwidth of almost 29 GB/s, maximizing GPU performance for the highest level of user experience. And through AMD's productive relationship with workstation solution providers, graphics professionals will have access to the AMD FirePro V3900 in a range of industry-leading systems from Hewlett-Packard (HP) and others.
The AMD FirePro V3900 has received certification for a variety of applications including AutoCAD, UGS NX, PTC Creo, SolidWorks and Autodesk 3Ds Max.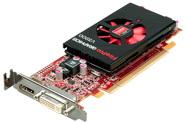 AMD FirePro V3900 graphics card
Photo: Company