SAN JOSE, CA - OCZ Technology Group, Inc. (Nasdaq:OCZ), a leading provider of high-performance solid-state drives (SSDs) for computing devices and systems, will showcase their latest flash storage technologies at Computex Taipei 2012. As an innovator in the global SSD market, OCZ will display their newest solutions that deliver the highest levels of performance and cost efficiency. OCZ is at TICC, Booth T203A.
Speed and Innovation Combine for a Superb Value
One of the most exciting products OCZ will showcase at this year's Computex is the new Agility 4 Series SSD. As a successor to the mainstream positioned Agility 3, the Agility 4 Series provides leading performance over a broad spectrum of applications, making use of asynchronous MLC NAND to offer an excellent cost per gigabyte. Agility 4 SSDs are innovatively engineered to deliver excellent file transfer rates and superior system responsiveness, all while providing a more durable, reliable, and energy efficient storage solution compared to traditional hard drives. Designed to take full advantage of the SATA III interface, the Agility 4 unleashes ultimate productivity, gaming, and multimedia applications for users seeking both stand-out speeds and exceptional value.
Excelling in Performance, No Matter the File Type
Mirroring real-world performance scenarios over a broad spectrum of consumer desktop and mobile applications, Agility 4 SSDs are designed to provide a superior user experience and extreme performance over the other current solutions available on the market. With the cutting-edge Indilinx Everest 2 platform, Agility 4 is optimized for consistent, high speeds with the complete spectrum of file types and sizes including both compressible and incompressible data for balanced performance like no other drive you've experienced. It's the BEST VALUE FOR PERFORMANCE solid state drive.
About OCZ Technology Group, Inc.
Founded in 2002, San Jose, CA-based OCZ Technology Group, Inc. (OCZ) is a global leader in the design, manufacturing, and distribution of high-performance solid-state storage solutions and premium computer components. Offering the industry's widest range of solid-state drives (SSDs), OCZ features SSDs in a variety of form factors and interfaces (i.e. PCIe, SAS and SATA) to address HDD replacement, SAN acceleration, server and storage virtualization, cloud computing, and virtual desktop infrastructure (VDI) opportunities. Having developed firmware and controller platforms to virtualization and endurance extending technologies, the company delivers vertically integrated, customizable solutions enabling transformational approaches to how digital data is captured, stored, accessed, analyzed and leveraged across a wide range of client and enterprise applications. For more information, please visit: http://www.ocztechnology.com/.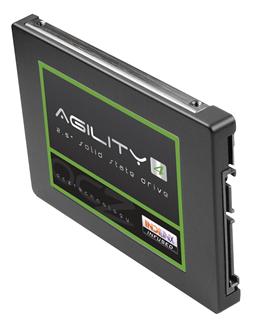 OCZ Agility 4 SSD