GigaFast introduces industry leading nano and wireless line of HomePlug products at Computex 2012
Press release
GigaFast E Ltd, a manufacturer of HomePlug power line communications (PLC) equipment, has expanded its nano and WiFi product line for 2012. The only manufacturer focused on delivering OEM/ODM customers a full line of PLC products, GigaFast branched out in every HomePlug product segment with all new product offerings from every HomePlug chipset provider including Qualcomm Atheros, Broadcom, and Sigma.
For the 2012 Computex GigaFast is unveiling a new PN (Powerline nano) line of HomePlug pass-through products. The product line features an all new design focusing on a sleeker industry leading nano-size housings, strong visual appeal, and better pricing. The PN product line includes the world's smallest pass-through designs using 200Mbps and 500Mbps HomePlug chipsets from Broadcom and Qualcomm Atheros.
Pass through bridges are commonly used in the delivery of IPTV services by providing access to the home router from the TV. HomePlug technology is preferred over other solutions because of its robustness in the home. GigaFast's PN928-EPg (200Mbps) and PN958-EP2 (500Mbps) pass thru adapters are equipped with a filtered power socket, preventing the loss of an electrical outlet. The smaller size prevents the pass through bridge from blocking surrounding sockets. Utilizing the newest chipsets from Broadcom (BCM60321) and Qualcomm Atheros (AR7420), GigaFast's new PN line of pass through bridge guarantees the highest speed connectivity HomePlug AV has to offer. Both the PN928-EPg and PN958-EP2 are available today in world wide voltages and plugs.
In addition to improvements on pass thru adapters, GigaFast has been working on a new line of HomePlug AV to Wireless products. The latest product featured is GigaFast's PS827-APg. The solution combines Broadcom's 200Mbps HomePlug AV with their Wireless chipsets creating a unified HomePlug AV to Wireless experience.
The PS827-APg will create a HomePlug AV network backbone, extending wireless coverage in a home. In addition to using HomePlug AV as a backbone, the PS827-APg will also be able to bridge via wireless to areas in the home where HomePlug coverage is weaker. The PS827-APg is a giant step forward in GigaFast's continuing commitment to provide connectivity without the hassle of installing wires.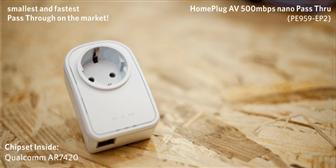 GigaFast HomePlug pass through