Applied Materials clears critical roadblock to EUV lithography with new photomask etch system
Press release
Applied Materials, Inc. advanced the state-of-the art in photomask technology with its new Applied Centura Tetra EUV Advanced Reticle Etch system. Overcoming a major hurdle to the adoption of EUV (extreme ultraviolet) lithography, the new Tetra EUV system solves the critical and unmet challenge of etching the new EUVL photomasks with nanometer-level accuracy and world-class defect performance to enable the fabrication of multiple new generations of high-performance semiconductor chips.
"Our new Tetra EUV system expands the capabilities of Applied's industry-standard Tetra etch platform, which is used by the great majority of advanced mask makers today," said Ajay Kumar, vice president and general manager of the Mask and TSV (through-silicon via) Etch product division at Applied Materials. "Applied continues to invest in technologies that are important to our customers and will enable next-generation design nodes. We have already shipped multiple systems and we are working closely with virtually every leading mask maker to help the semiconductor industry accommodate this significant technology inflection."
EUVL photomasks are fundamentally different than conventional photomasks that selectively transmit 193nm wavelength light to project circuit patterns onto the wafer. At the 13.5nm wavelength used by EUVL, all photomask materials are opaque, so the mask contains complex multi-layer mirrors to reflect circuit patterns onto the wafer instead. The Tetra EUV system is designed to etch new materials and complex layer stacks to meet the stringent pattern accuracy, surface finish and defectivity specifications required to achieve high lithography yields when operating in this reflected mode.
The Tetra EUV system is part of Applied Materials' comprehensive portfolio of solutions to optimize the productivity and yield of its customers' photomask and lithography operations. The system is supported by Applied Global Services, the industry's most comprehensive service and support network, to maximize system uptime - a vital priority for mask etch tools. For more information on Applied Materials' lithography-enabling solutions, visit www.appliedmaterials.com/advanced-litho.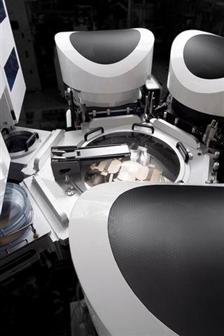 Applied Materials Tetra EUV
Photo: Company
DIGITIMES' editorial team was not involved in the creation or production of this content. Companies looking to contribute commercial news or press releases are welcome to contact us.