ADATA solidifies its position as a high performance integrated solution provider at Computex 2011
Press release
Taipei, Taiwan - May 20, 2011 - ADATA Technology, a world leader in DRAM module and Flash application products, will announce the continued expansion of its USB 3.0 product lineup and a powerful entry to the solid state drive arena at Computex 2011, one of the world's major consumer electronics and IT exhibitions.
New products to be presented at the fair will include USB flash drives and external hard drives that support the USB 3.0 transmission standard, as ADATA continues to quickly phase in the latest specifications and manufacturing processes across the board. As more and more systems are released in the market with USB 3.0 support, a broad range of compatible device offerings is seen as a necessary factor for manufacturers to maintain competitiveness.
Also on display will be the latest offering of the high-performance XPG series of DRAM modules, a favored component for enthusiasts and power users who work with high-end systems.
The solid state drive market continues to heat up, and ADATA will showcase the S511, an ultra-fast SATA 6 Gigabit per second SSD compatible with the new Sandy Bridge platform. The S511 boasts maximum sequential read/write speeds of 550 and 520 MB/sec respectively, and has been an influential contender in the highly competitive field of solid state drives.
Computex 2011 will be held May 31 to June 4, in Taipei, Taiwan. For more information, visit http://www.computextaipei.com.tw/
For more details about the latest products of ADATA, visit the company's booth at Computex 2011, located at the Taipei World Trade Center Nangang Exhibition Hall, Booths J818, J824, J1017, & J1023.
About ADATA
ADATA Technology, the world's 2nd largest vendor of DRAM Modules (iSuppli, May 2010), 3rd largest of USB Flash Drives (Gartner, May 2010), and the Top 20 global brand in Taiwan, provides complete memory solutions, including DRAM Modules, USB Flash Drives, Memory Cards, solid state drives and portable hard drives. ADATA products are internationally recognized by Germany's iF Design Award, red dot Award, CES Best of Innovations Award, Japan's Good Design Award, Best Choice of Computex Award, and Taiwan Excellence Gold Award. For more information, please visit the company's website at http://www.adata-group.com/.
Media Contact: Shawn Chiu
Department Marketing Dept.
ADATA Technology Co., Ltd.
Tel: (02) 82280886
E-mail: shawn_chiu@adata.com.tw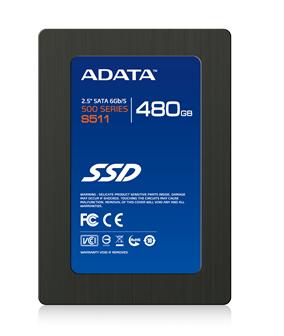 ADATA 2.5-inch 480GB SSD
Photo: Company