Memory module maker Power Quotient International (PQI) has announced a new 2.5-inch external hard disk drive (HDD) series, the H567L/V, which has both USB 2.0 and USB 3.0 transfer capabilities.
The H567L supports the current mainstream USB 2.0 transfer interface, with transfer speeds of up to 480Mbps/sec, while the H567V features a USB 3.0 interface with transfer speeds of up to 5Gbps/sec. Operating roughly 10 times faster than USB 2.0, USB 3.0 greatly reduces data transfer times and is backward compatible with USB 2.0.
The new HDD series casts aside traditionally thick, heavy and inflexible exterior molds by utilizing precision engraving polishing technology to create an elegant mirror-like exterior on both the front and back plates. All sides are coated with an aluminum mist to give it a glossy finish and a surface as smooth as the skin of a newborn babe. With its contrasting diamond black and aurora white color scheme and diffusion of indiscernible yet dazzling radiance, the H567L/V captivates everyone around it.
In addition, PQI demonstrates its close attention to fulfilling user wishes by installing four raised points on the back of the device to protect against scratches, prevent slippage, and reduce noise, all while offering protection from inadvertent and annoying scrapes and even cutting down on noise produced during use. By offering four storage options of 320GB, 500GB, 640GB and 750GB, different capacity requirements have also been addressed.
Also, the exclusive bonus application software Ur Fortress provides users with complete data encryption functions, including confidential document security protection and personal image and video protection guarantees, enabling users to more effectively backup their data and manage confidential documents.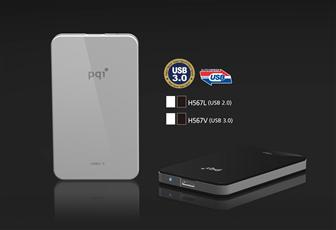 PQI H567L/V
Photo: Company