AMD has announced immediate availability of the new AMD G-series accelerated processing unit (APU) for embedded systems. The AMD G-series, based on AMD Fusion technology, delivers a complete, full-featured embedded platform and incorporates the new low-power, x86 CPU based on the Bobcat core with a DirectX 11-capable GPU and parallel processing engine on a single piece of silicon.
Embedded systems based on the G-series are available today or expected to launch in the coming weeks from companies including Advansus, Compulab, Congatec, Fujitsu, Haier, iEi, Kontron, Mitec, Quixant, Sintrones, Starnet, WebDT and Wyse, the vendor said.
Expected products include graphics-intensive solutions like digital signage, Internet-ready set top boxes (STBs), mobile and desktop thin clients, casino gaming machines, point-of-sale (POS) kiosks, and small form factor PCs, as well as single board computers (SBCs).
The open development ecosystem for the G-series platform includes multiple BIOS options, support for various Microsoft Windows, Linux, and real-time operating systems, the integrated OpenCL programming environment, and source-level debug tools.
AMD also provides a dedicated design support team to help customers create distinctive new products and bring them to market quickly as well as online resources include an embedded developer portal, AMD embedded product selection guide and customer-submitted details on available boards and complete systems, the company said.
AMD G-series platform specifications

Item

Detail

CPU

1 or 2 x86 Bobcat CPU cores with 1MB L2 cache, 64-bit floating point unit and 1.6GHz clock speed.

TDP

9W and 18W

Memory

DDR3 800-1066 memory with support for 64-bit channel and 2 DIMM slots.

Graphics output

DirectX 11 capable graphics engine
Source: Company, compiled by Digitimes, January 2011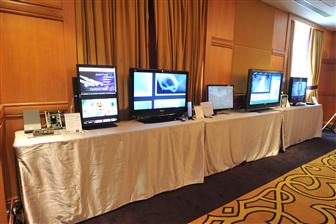 Applications based on AMD G-series platform
Photo: Company