Silicon Integrated Systems (SiS) has announced that TCL - China's largest TV brand - has adopted SiS9561 as the key SoC component of their first generation Internet smart TV. SiS9561 is based on the Android 2.2 Froyo platform, supporting an enhanced Internet browser with Adobe Flash Player 10.1, Skype video conference, and Quickboot. The proprietary Quickboot scheme sustains the SiS9561 Android Internet TV platform to boot up and activate the widget services/internet browser within 15 seconds.
The SiS9561 Internet TV solution supports multi-language and various broadcasting television systems worldwide.
In consideration of delivering more intuitive and convenient user experience to the web browsing and cloud entertainment, the SiS9561 Android Internet TV solution offers various customized and easy-to-use widgets including the most popular categories: Youtube for online video streaming; Facebook for social networking; eBay for auction; flicker for photo library; Pandora for online radio; weather; Google finance and US Traffic for daily life information; USA Today for news; and online film renting and online games, the company said. Moreover, the SiS9561 Android Internet TV platform allows users to communicate with embedded Skype Internet video conferencing.
The SiS9561 Android Internet TV platform can be controlled by regular remote control switching the TV or Internet TV button to navigate the TV channel programs or Internet content to meet the expectation of keyboard-free usage. In addition, users can use their Android smartphone or tablet devices to control SiS9561 Android TV.
The SiS9561 solution integrates a dual-core 32-bit 576MHz MIPS processors with 32KB/16KB cache, DDR3 1333 MHz memory controller, 2D graphic engine, 8-bit NAND flash controller, SD/MMC interfaces and 10/100 Ethernet controller.
Engineering sample of the SiS9561 Android Internet TV solution has been under customers' verification now and it is scheduled to be mass-produced in the first quarter of 2011.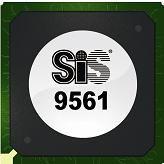 SiS SiS9561 Android Internet TV SoC
Photo: Company