Hanvon has unveiled the Hanvon WISEreader E920, a large-screen, high-resolution e-book reader, at CES 2011 (LVCC South Hall Booth #36062). The Hanvon WISEreader has a 9.7-inch screen and 200 dpi resolution, which provides some of the crispest and sharpest images ever seen on an E Ink-powered device, the vendor said. The e-book reader will be available by June 2011.
"Hanvon introduced the world's first color E Ink reader, and we are continuing to innovate with our large-screen, high-res e-reader," said Liu Yingjian, president of Hanvon. "Consumers should expect clear, detailed text and images from their e-books, readable in bright light conditions, and the WISEreader E920 delivers this experience."
The WISEreader has a standby battery life of 15 days, and can read more than 10,000 pages before requiring a recharge, Hanvon said.
The WISEreader will support extended MicroSD cards up to 32GB, allowing consumers to store more than 10,000 e-books on the reader. It provides all the traditional benefits of an E Ink reader and also supports a variety of formats, will speak in TTS voice, allows users to comment in PDF at any time and make instant Chinese-English translations, the vendor added.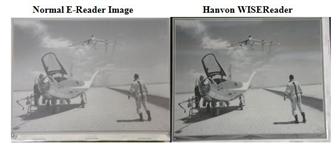 Hanvon 9-inch, high-resolution e-book reader, the WISEreader
Photo: Company