CES 2011: Samsung unveils ultra-slim, high performance plasma TVs
Press release; Yvonne Yu, DIGITIMES
At the International Consumer Electronics Show (CES), Samsung Electronics, continued to raise the industry bar for plasma TVs with its extended plasma TV line-up of 16 new models across six product series.
Samsung's 2011 ultra-slim plasma TVs add a touch of sophistication and style to any home. All new plasma TVs also offer Samsung's breakthrough Plasma+1 design, which features a new narrow bezel design that adds 1-inch of viewable screen size over last year's products for a greater viewing area without increasing the outside dimensions of the set.
For example:
2010 line-up: 42-, 50-, 58- and 63-inch
2011 line-up: 43-, 51-, 59- and 64-inch
The TVs also offer richer connected entertainment options through one of the most comprehensive offering of apps and connected devices, so that people get the most out of their entertainment experience. Select models will offer Samsung's new Smart Hub, which includes:
- Search all, which makes it easier to search for desired content on your TV and other DLNA-certified connected media storage devices, networked PC and mobile devices, and Internet and video-on-demand services.
- Your video, which delivers recommendations based on a user's viewing history.
- Web browser, which offers full web browsing right from your TV.
- Samsung apps, the world's first HDTV-based application store, which offers a range of paid and free apps that help people connect to their various passions – whether in sports, entertainment, information, games or social networking.
The latest TV lineup will be on display at Samsung's booth #12006 in the Central Hall at the International CES, which will be held at the Las Vegas Convention Center (LVCC), January 6-9, 2011. The Samsung Plasma D6500 series TVs, a CES 2011 Innovations Design and Engineering Award winner, will also be on display in the Grand Lobby at the LVCC.
Stylish TV with outstanding picture quality and a larger viewing screen
Samsung's Plasma D8000 series is a full HD plasma TV that is designed to deliver our best viewing experience in 2D and 3D. The D8000 series features a dark metallic bezel combined with Samsung's ToC border for an understated cool elegance associated with luxury items. More importantly, the thinner bezel makes possible the added inch in screen size without an increase in the overall size of the TV.
The Plasma D8000 series features Samsung's Real Black Filter technology, which reduces the onscreen glare to produce darker blacks and sharper images. The plasma panel has also been redesigned to deliver outstanding black luminance. The TV also includes Samsung's proprietary Crystal full HD engine with Cinema Smooth technology that delivers smoother motion effects when watching their favorite Blu-ray discs. These features combine to give the D8000 series a dynamic contrast ratio of 3,000,000:1, and pristine depth and dimension to onscreen images.
The Plasma D8000 series is also compatible with Samsung's 3D active glasses and multi-display Touch Control. This remote can be a second portable TV, offers a Qwerty keyboard for easy text input during web browsing and acts as a universal remote control for your onscreen content. With built-in Wi-Fi, viewers have access to Smart Hub to view and search for content on Samsung Apps or on DLNA-certified devices.
Solid all-round performer with advanced connectivity options, 3D video processing technology and stunning design
Samsung's ultra-slim Plasma D6500 series is a 1080p 3D TV that offers a range of features that makes it an outstanding all-round choice for those looking to enhance their TV experience.
The Plasma D6500 series offers a dichotomy in design texture, between cold, black metal and warm, smooth glass. The cabinet consists of a brushed metallic black frame and the translucent mold that encases the frame and uses Samsung's ToC technology to create a luxurious finish. The same pattern is reflected in the silver stand, where a reinforced glass neck is attached to a black matte metal base. With the narrow bezel, Samsung TVs can fit into viewing spaces previously reserved for smaller screen sizes, so for example, a 51-inch TV can fit into a spot previously occupied by a 50-inch screen.
With Samsung's built-in 3D processing technology, viewers can easily up-convert 2D content and render it in high-definition 3D for a richer, more immersive entertainment experience. Its powerful system-on-chip not only renders standard 2D content into 3D entertainment in real-time, but also offers video-enhancing tools that produce sharp, color-rich and smooth pictures. The Plasma D6500 series connects seamlessly to Samsung's 3D active glasses, thereby eliminating problems such as interference and strict line-of-sight requirements, so that viewers can enjoy a more stable image and greater flexibility to watch the television from practically any viewing angle.
With built-in Wi-Fi, viewers can also stream content to the Plasma D6500 series from other DLNA-certified devices using Samsung AllShare, as well as access to a broad range of apps via Samsung Apps.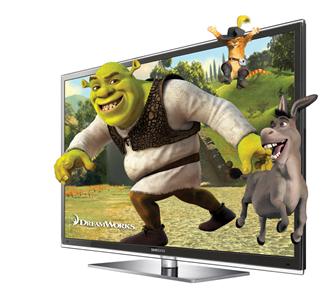 Samsung Electronics full HD 3D plasma TV, the D8000
Photo: Company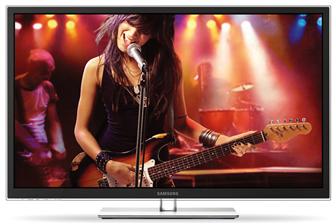 Samsung Electronics full HD 3D plasma TV, the D6500
Photo: Company