CES 2011: LG to show Cinema 3D TV
Press release; Yvonne Yu, DIGITIMES
At the 2011 Consumer Electronics Show (CES) in Las Vegas, LG Electronics (LG) will unveil the LW6500, a Cinema 3D TV.
LG's Cinema 3D technology does not require shutter glasses, so images displayed on the LW6500 are entirely free of flicker, and the LW6500 received a "flicker free" certification from Intertek and TÜV, two certification bodies. The company said the LW6500 is the first 3D TV to receive this designation.
The 3D glasses weigh 16 grams and have no electrical parts and are free of electromagnetic waves and never need to be recharged. The glasses do not need to be synchronized so viewers can watch the LW6500's screen from any angle. And because the glasses are far less expensive than shutter glasses, viewers can buy as many pairs as they need for family and friends. The LW6500 also features 3D light boost, a thin film covering the screen that ensures 3D images are shown at maximum brightness.
The LW6500 will be rolled-out in select markets soon after its introduction at CES.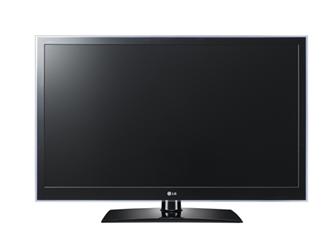 LG Cinema 3D TV, the LW6500
Photo: Company