With the debut of six products based on the Intel Atom processor, Intel is making it easier for customers to go-to-market with differentiated, custom-made designs. The company today announced the configurable Intel Atom E600C series, which features an Intel Atom E600 processor (Tunnel Creek) paired with an Altera FPGA in a single package.
The new Intel Atom processor provides greater flexibility and faster time-to-market for customers, who can now more readily handle design changes without complicated hardware changes, helping to lower development costs, Intel said. In addition, the new processor offers board space savings and better inventory control due to the single package, as well as a simplified manufacturing flow and single vendor support through Intel.
Based on Intel architecture, the Intel Atom E600C processor series provides IT players with the flexibility to incorporate a wide range of standard and user-defined I/O interfaces, high-speed connectivity, memory interfaces and process acceleration to meet the evolving needs of embedded device market segments.
The Atom E600C processor series comes with Intel's extended 7-year-long life-cycle manufacturing support, and industrial and commercial temperature options, which makes it ideal for market segments such as industrial machines, portable medical equipment, communications gear, vision systems, VOIP devices, high-performance programmable logic controllers and embedded computers.
Kontron has Atom processor E600C-based prototype boards available now, with full production beginning in the second quarter of 2011.
Formerly codenamed Stellarton, the Intel Atom processors E665CT, E645CT, E665C, and E645C are scheduled to be available within 60 days. The E625CT and E625C are on track to be available in the first quarter of 2011. Prices range from US$61 to US$106 in quantities of 1,000.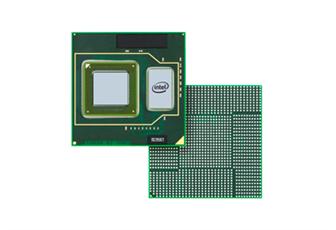 Intel Atom E600C series
Photo: Company