Computex 2010: Idti claims world's largest full HD in-cell optical multitouch LCD monitor
Press release, staff reporter, DIGITIMES, Taipei
Idti, an in-cell touch technology specialist, has launched what it claims to be the world's largest full HD in-cell multitouch LCD monitor. The company will be exhibiting the product, as well as its other technologies during Computex Taipei 2010.
The device features a 21.5-inch full HD touch panel and is certified for use with Windows 7.
The system is built around in-cell technology developed exclusively by Idti using light sensitive devices embedded within the LCD's array grid, and can be applied towards panel sizes of up to 21.5 inches. In order to conform to normal writing habits, Idti's in-cell optical LCD panel supports pen input and adjustable usage angles (from 0 to 90 degrees), to cater to various usage habits and needs.
Using a multi-touch panel is a new experience for many users, Idti stated, in explaining the thought it put into the panel's design. The company noted that it incorporated palm-rejection technology into the panel as well, which allows for comfortable hand/wrist placement on the screen panel.
Idti pointed out that a number of previous touch devices on the market caused discomfort due to prolonged wrist elevation. There were concerns that users would return to using a mouse and keyboard despite their initial interest in multi-touch, due to the poorly conceived panels. Idti explained that it was one of the few experts in this area in Taiwan, and its design has been able to produce normal writing methods, and market feedback has been nothing but positive.
Idti noted that palm rejection is a complicated and challenging technology; apart from the ability to detect multi-touch operation, the product also needs to be able to discern the difference between "normal operation" and "palm rejection". The company stated its technology represents a breakthrough for multi-touch and can serve as a benchmark for other multi-touch applications.
Applications for the device vary from developing engineering/architectural plans to providing a fun easy-to-use large screen doodle board or gaming monitor for family use. The company said users in the "Otaku Economy" group will probably be the early adopters for such a monitor.
Another feature of the product is that its optical in-cell technology allows for the elimination of additional plug-ins, resulting in lower costs than expected. The forecast for such panel shipments will reach five million panels in 2010, the company said.
During Computex, visitors can visit the company's booth at Hall-3, G442.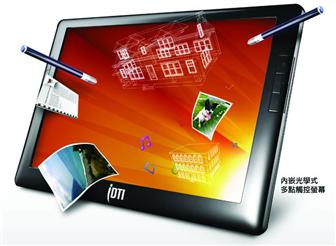 Idti's full HD in-cell optical multitouch LCD monitor
Photo: Company