AMD has announced availability of a new server platform, the AMD Opteron 6000 series, featuring eight- and 12-core x86 processor for the high-volume 2P and value 4P server market.
The Opteron 6000 series server processors performing at up to two times the level of AMD's previous generation six-core processors, including an 88% increase in integer performance and a 119% increase in floating point performance, the company claimed.
The platform features enhanced integrated memory controller supporting four channels of DDR3 memory for up to a 2.5x improvement in overall memory bandwidth. It also has 33% more memory channels per processor than competitive 2P solutions.
The platform has 50% higher DIMM capacity compared to previous generations, with up to 12 per processor, increasing the available memory overall and improving virtualization, database and HPC applications.
The platform's AMD 5600 series chipset features I/O virtualization capability, HyperTransport 3.0 technology and PCI Express 2.0.
The platform has removed the '4P tax,' since the same processors can be used in both 2P and 4P designs, and 4P-capable processors are now the same price as 2P-capable processors, bringing greatly improved value to the 4P space.
The platform has several new power management features including a C1E power state to conserve energy when idle, the Advanced Platform Management Link allowing APML-enabled platforms to be remotely monitored for power and cooling, and AMD CoolSpeed technology can automatically reduce p-states if a specified temperature limit is exceeded, AMD said.
The new AMD Opteron platform is chipset- and socket- compatible between 2P and 4P and will be compatible with the planned processors based on the next-generation AMD server processor core, codenamed Bulldozer.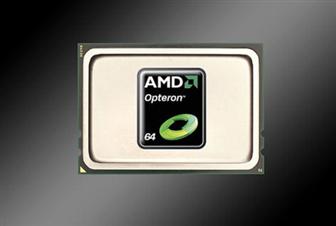 AMD Opteron 6000 series processor
Photo: Company