VIZIO selects Celeno Wi-Fi chipset for wireless HDTV solution demonstrated at CES 2010
Press release, January 7, Staff reporter, DIGITIMES
VIZIO, America's #1 LCD HDTV Company, was demonstrating a 24-inch Portable HDTV that leverages Celeno Communications' beam forming Wi-Fi chipset to deliver enhanced whole-home wireless HDTV experience. Celeno's Wi-Fi chipset enables a paradigm shift in the use case for LCD panels, giving consumers the unprecedented flexibility to place and move their portable thin LCD panels anywhere in the home, based on need, breaking free from the constraints of HDMI cables.
A paradigm shift in TV usability
A portable HDTV solution is comprised of two components: a compact Wireless A/V "base station" with TV tuner and A/V inputs such as HDMI and analog A/V interfaces, and an HDTV with nothing but an AC power cord. The stationary wireless base station distributes the HD video signals over the air to be displayed on a thin, portable, wireless LCD panel that can be located anywhere in the home. Celeno has recognized this important market trend and responded with a robust Wi-Fi based solution that delivers whole-home wireless distribution of Full-HD content even through multiple walls and ceilings. Consumers can then enjoy their TV anywhere in the home, even in rooms or locations where a set top box cannot be placed or where Coax jacks are not typically installed, such as kitchen counters, secondary bedrooms, garages, or even the backyard.
Wi-Fi is best suited for the task
This innovative solution utilizes H.264 real time compression technology and Celeno's standards-based Wi-Fi for the wireless connectivity of the HD signals between the "base station" and the HDTV. Standards based Wi-Fi technology is the ultimate radio technology for wireless TVs allowing for convergence of HD video, over the top Internet video and remote user interface distribution over a single home networking technology. There are multiple competing radio technologies for the task, however Wi-Fi and H.264 is the only combination that delivers robust enough transmission for multi-room distribution as well as providing the same infrastructure for both HD video and Internet based video.
"The new generation of thin and light HDTVs has created consumer demand for a whole home portable TV solution that can be easily moved with a built in handle and only requiring a power outlet," said Matthew McRae, VP of Products at VIZIO. "Using Celeno's Wi-Fi chipset to distribute HD quality video over standard 802.11n is a compelling solution to enable portable TVs that still have access to all of the user's video sources such as Blu-ray, Cable TV or Satellite TV."
Technical details
Celeno's powerful transmit beam forming Wi-Fi chipset is embedded into the wireless TV and base station and employs the OptimizAIR technology suite to achieve HD performance well beyond regular 802.11n. The solution is tuned to meet the stringent requirements for Full-HD video distribution:
Range: By leveraging transmit digital beam forming technology at the silicon level, the CL1300 Wi-Fi chip achieves whole-home coverage, through multiple walls and ceilings.
Robustness: Implementing real time transmission shaping and antenna switching, the CL1300 adapts itself to the changing environment, guarantees zero errors and overcomes channel fading, dead zones and signal interferences.
Throughput: CL1300 TDM scheduled MAC achieves high video throughput and zero packet error rate to eliminate retransmissions, latency and jitter.
Interference resiliency: adaptive interference detection, fast channel selection and 20MHz operation overcomes radio signal interferences and abandons noisy radio channels in real time in favor of new clean ones.
"Celeno's Wi-Fi is not your typical 802.11n. The CL1300 employs cross layer optimization of multiple techniques and features to extend wireless performance for multi-room HD video streaming", explained Gilad Rozen, Celeno's CEO "We are proud to be selected and work with VIZIO on advanced wireless TV solutions."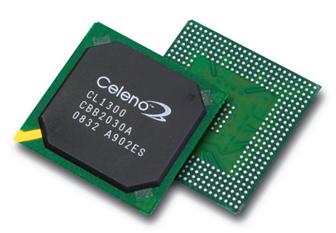 Celeno wireless HDTV solution CL1300
Photo: Company