AMD has announced the ATI Radeon HD 5970, a new ultra high-end model joining its list of Radeon HD 5000 series graphics card to fully support Microsoft DirectX 11 technology and ATI Eyefinity multi-display technology.
Designed to support demanding PC games at ultra-high resolutions and image quality settings, the HD 5970 has unlocked overclocking potential through ATI Overdrive technology. Related graphics cards are now shipping from retailers and available in the channel.
The overclocking capabilities of the HD 5970 are enabled by the unique design of the card, which features advanced fan and vapor chamber technologies and a fully vented exhaust to keep the card cool and ensure overclocking headroom using ATI Overdrive technology, claimed AMD.
The HD 5970 can drive up to three displays at once, and deliver a maximum resolution of 7680×1600, while ATI CrossFireX technology can leverage the power of multiple graphics processors to deliver even more performance when using ATI Eyefinity technology.
The HD 5970 graphics card delivers nearly five teraflops of compute power, ensuring performance in the latest DirectX 11 games, as well as in previous versions of DirectX and OpenGL titles, AMD said, adding that with the graphics core built on 40nm process technology harnessing up to 3,200 stream processors, consumers can enjoy the latest DirectX 11-based games.
The HD 5970 can also power down unused GPU resources when not in use automatically, resulting in idle desktop power consumption as low as 42W.
The HD 5970 is supported by add-in-board companies including ASK, Asustek Computer, Club 3D, Diamond, Gigabyte Technology, High Tech, Micro-Star International (MSI), Sapphire, Tul/Power Color, Visiontek and XFX, according to AMD.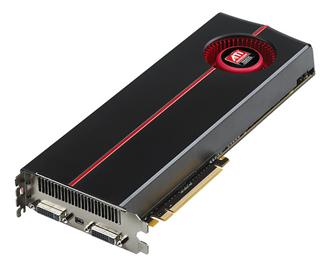 AMD ATI Radeon HD 5970 graphics card
Photo: Company