Gateway debuts three new EC series notebooks
Press release, October 21; Joseph Tsai, DIGITIMES
Gateway has debuted three new EC series notebooks, two in the 15.6-inch mainstream segment and one in the 11.6-inch ultra-portable segment. All the models deliver up to eight hours of battery life.
The new Gateway EC series notebooks will be available this week in retail stores with the launch of Windows 7.
The 15.6-inch Gateway EC58 and EC54 start at 5.29 pounds and are an inch thin. They are built by a brushed aluminum alloy chassis available in silver or blue. The 11.6-inch Gateway EC14 adopts a mobile Intel processors and a full-size keyboard. With a more compact form factor, it weights only 3.79 pounds and is available in cherry red or black.
The EC series feature Gateway's PowerSave one-touch key, which puts the notebook into energy conservation mode with a single touch. The Gateway EC58 and EC54 lines also include Gateway's MyBackup Manager for backing-up important files and information.
Gateway EC series notebook specifications

Model

Gateway EC1430u

Gateway EC5409u

Price

US$549.99

US$649.99

CPU

Intel Pentium dual core processor SU4100

Intel Pentium dual-core processor SU4100

OS

Windows 7 Home Premium 64-bit

Windows 7 Home Premium 64-bit

Display

11.6-inch HD widescreen ultrabright LED-backlit TFT LCD

15.6-inch HD widescreen ultrabright LED-backlit TFT LCD

Chipset

Mobile Intel GS45 Express chipset

Mobile Intel GS45 Express chipset

VGA

Intel graphics media accelerator 4500MHD

Intel graphics media accelerator 4500MHD

Memory

4GB dual-channel DDR2 667MHz memory, support up to 8GB

4GB dual-channel DDR3 1066MHz memory, support up to 8GB
Sources: Company, compiled by Digitimes, October 2009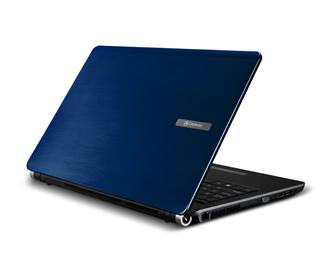 Gateway 15.6-inch EC series notebook
Photo: Company