Gateway has introduced the One ZX series all-in-one PCs with multi-touch displays, with the 20-inch One ZX4800 series targeting students and the powerful 23-inch One ZX6800 series being more suitable for gamers.
The two all-in-one PC series equip the exclusive Gateway TouchPortal, an interface that lies on the top of Windows 7, and serves as the starting point for managing a suite of Gateway one-touch gadgets and Microsoft touch applications. Gateway's touch gadgets provide quick access to applications for music, videos, photos, social media networks and more, Gateway highlighted.
The Gateway One ZX6800 series all-in-one PCs equip Intel's Core 2 Quad processor and AMD's ATI HD 4670 graphics, as well as 1TB hard drive and a 64GB solid state drive (SSD).
Some models in the One ZX6800 series offer a hybrid TV tuner and media center remote control for family entertainment. The wireless keyboard and mouse and a plug-n-boot single power cord further streamline the PC's work area, noted Gateway.
Featuring the same design but on a reduced scale, the ZX4800 series is ideal for smaller environments, such as a dorm, home office or kitchen. The series features a 20-inch high-definition widescreen display, an Intel Pentium processor, integrated graphics, webcam, wireless networking and wireless keyboard and mouse.
The Gateway One ZX6800 and ZX4800 all-in-one PCs will be available late October/early November at online retailers. The high-performance FX6810-01 will be available later in the fourth quarter.
Gateway One ZX series all-in-one PCs specifications

Model

Gateway One ZX6810-01

Gateway One ZX4800-02

Price

US$1399.99

US$749.99

Display

23-inch Ultrabright LCD

20-inch Ultrabright LCD

CPU

Intel Core 2 Quad Q8200S

Intel Pentium dual-core T4300

Chipset

GM45

GL40

VGA

ATI Mobility Radeon HD 4670 with 1GB DDR3 memory

Integrated Intel GMA X4500HD

Memory

8GB DDR3 1333MHz

4GB DDR2 800MHz

Storage

1TB SATA HDD

64GB SSD

750GB SATA HDD
Sources: Company, compiled by Digitimes, October 2009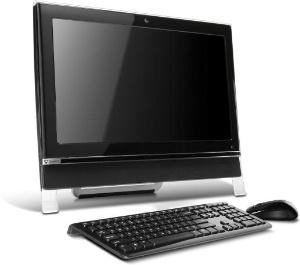 Gateway One ZX series all-in-one PC
Photo: Businesswire