Taiwan-based Higgstec has developed a single-layer projected capacitive touch (S-PCT) solution which offers proximity sensing and better transmittance than other types of touch panels, according to the company.
The multi-touch S-PCT claims a transmittance of 97.4%, compared to 90% for other capacitive panels, and 73-90% for the resistive type, says Higgstec.
S-PCT is highly noise resistance, and with supporting ICs it features proximity sensing, or 3D touch - meaning a touch can be realized without physical contact, according to the company.
Higgstec's S-CPT solution is manufactured in a high temperature process that allows lower inner resistance and better durability.
The cost of the S-PCT total solution (with IC) may be only a fifth of ordinary capacitive solutions, and almost half of resistive ones, the company claims.
Higgstec said its S-PCT panels target the market for digital cameras, digital photo frames and handsets.
Higgstec, founded in 2002, mainly focuses on research and development of touch technology and human-machine interface applications. Its other offerings include 5-wire resistive and surface capacitive touch panels.
Its plant at Gueishan, northern Taiwan has a monthly capacity of 120,000 substrates (500mm x 600mm). Another plant at the Lize Industry Park, northeastern Taiwan manufactures projected capacitive and surface capacitive touch panels, with a monthly capacity of 150,000 substrates (500mm x 600mm).
Higgstec's Computex booth is at Hall 3, G262.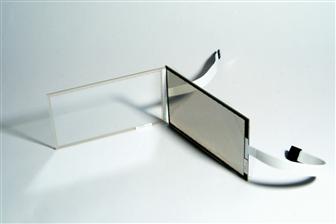 Higgstec single-layer projected capacitive touch panel
Photo: Company