VIA Technologies has announced its latest board form factor for embedded system developers, the Em-ITX form factor. Offering embedded developers a compact, versatile and highly integrated board form factor, VIA's Em-ITX establishes a standard for ultra-slim embedded devices.
The Em-ITX form factor is a new open industry standard defined by VIA, and is 30% more compact than Mini-ITX, yet offers 200% more I/O real estate. At 12×17cm, the Em-ITX form factor includes unique dual I/O coastlines and an exclusive Em-IO expansion bus to bring flexibility and scalability, said VIA. Benefits also include reduced time-to-market cycles for developers and access to a scalable processor platform that includes the 64-bit VIA Nano processor.
Embedded boards based on the Em-ITX form factor could form a base for industrial automation, digital signage, kiosk and other applications requiring an ultra-slim embedded device, highlighted VIA.
The VIA developed Em-ITX form factor specification includes dual I/O coastlines: I/O inputs can be found on both 17cm edges of the board. This design reduces cable clutter facilitating more compact and robust designs while also boosting signal integrity and improving airflow, said VIA. A variety of connectors are available on these two I/O coastlines, including COM (RS-232/422/485), RJ45, DVI, VGA, LVDS, USB 2.0 and DC power signals.
The Em-ITX form factor utilizes the Em-IO expansion bus to integrate with stackable, customizable, expansion modules. The Em-IO expansion bus integrates the majority of popular bus signal technologies, including USB 2.0, GPIO, LPC, PCIe, IDE, IEEE 1394, SATA, PCI, DVI, HDMI, Gigabit Ethernet and Card Bus signals.
Products based on the Em-ITX form factor will be available early next month.
In other news, VIA recently announced net sales of NT$388.85 million (US$11.13 million) for February of 2009, an increase of 5.86% on month.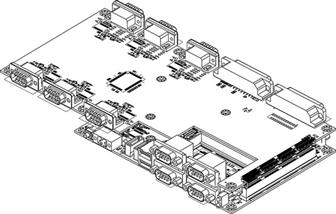 A technical drawing of Em-ITX board and expansion module
Photo: Company