Toshiba is showcasing its latest business-based products including the Toshiba Portege Satellite Pro, and Tecra product lines at CES 2009.
Toshiba recently announced cooperation with Sun Microsystems to deliver notebooks pre-configured with OpenSolaris OS which are targeted for availability in early 2009.
Toshiba showcased four notebooks. The Portege R600-ST520W is the company's first ultra-portable notebook with WiMAX capability. The notebook features a 12.1-inch LED backlit panel with pricing starting at US$2,149.99.
The Portege A600-S2201 is an ultra-portable notebook without WiMAX capability. The notebook features a 12-inch LED panel and pricing starts at US$1,399.99.
The Tecra R10-S4401 is a business notebook featuring the Intel Centrino 2 platform with vPro technology, a 14.1-inch display, and mobile Nvidia Quadro NVS 150M GPU with 128MB dedicated graphics memory. The notebook will be priced starting at US$1,549.99.
Finally, the Satellite Pro S300/S300M series notebook with Intel Centrino processor and a choice of 14.1-inch or 15.4-inch TruBrite display will have a price starting at US$729.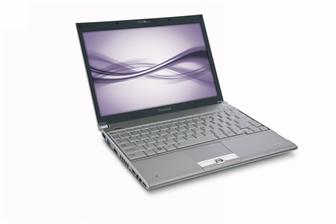 Toshiba Portege R600 business notebook with WiMAX
Photo: Company