Hewlett-Packard (HP) has launched its TouchSmart tx2-1003AU touch screen notebook in Taiwan.
The notebook features an AMD Turion X2 RM-74 processor, 250GB hard drive, ATI Radeon HD 3200 GPU with 64MB DDR2 sideport memory and 12.1-inch WXGA capacitive touch panel. Quanta Computer manufactures the notebook for HP.
HP pointed out that it plans to abandon single-touch technology and completely enter the multi-touch era in 2009.
HP's TouchSmart tx2 series notebooks will target the consumer market with prices around NT$34,900 (US$1,054). The company believes the series will expand the scale of the touch screen notebook market.
Touch panel makers are also optimistic about touch panel demand in 2009 and expect monthly shipment volumes of around 100,000 units.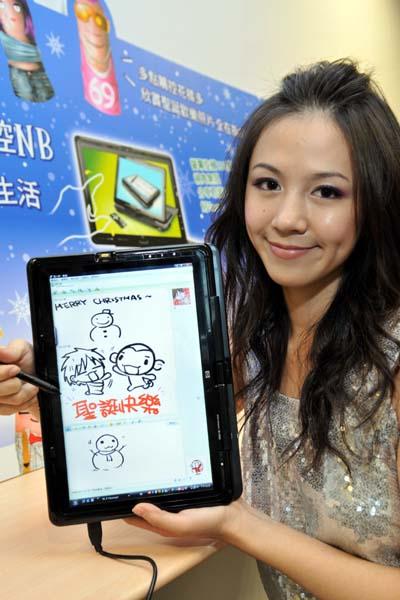 HP TouchSmart tx2 touchscreen notebook
Photo: Yen Ting Chen, DIGITIMES, December 2008