Computex 2008: Shuttle on a comeback
Ricky Morris, DIGITIMES, Taipei
With low-cost PCs based on Intel's Atom CPUs a main focus of Computex 2008, Shuttle's years of experience in pioneering the small form factor (SFF) PC market could mean the company is set for a comeback.
The last few years have been tough for Shuttle. As enthusiast level systems began to demand more powerful multi-core processors and dual-graphics card configurations, the company has found it more and more difficult to cram top-end components into a chassis typically one-third the size of a regular desktop PC. At the same time, the company's other key highlight, portability, has come under attack from the growing popularity, and lower cost, of notebooks.
As a result, Shuttle struggled with drops in revenues for two consecutive years between 2005 and 2006 prompting it to shift its strategy to include product lines for cost conscious markets, Windows- and Linux-based software solutions, and other markets beyond desktops. In 2007, Shuttle managed to bring in a modest 7% increase in its revenues on year.
For 2008, the company looks to be continuing to pursue its new found direction, with the products it has on show at its booth and VIP lounge at Computex 2008 reflecting several months of hardware and software development that Shuttle hopes will help secure its systems a place in markets such as the living room PC, home server and surveillance sectors.
Shuttle Digital Home
Shuttle's flagship product for this year's show is currently known by the product code U31. While superficially, the U31 clearly shows its XPC heritage with a similar design and dimensions as Shuttle's G-series, the company has actually designed the product to more closely target set-top box (STB) type devices such as the Apple TV, Media Center Extender products, and even game consoles such as the Xbox 360 and Wii, offering simplified access to multimedia content online or off a home network.
Probably the most prominent feature of the U31 is the 7-inch color, 800×480 pixel touch panel on the front of the chassis. In the past, Shuttle has shipped some of its home theater XPCs (the D'VO series) with a VFD-display capable of showing limited system and playback information. But the panel on the U31 Shuttle is able to provide a full GUI that can be used to access and control any multimedia content stored on the system or local network. Combined with a bundled remote control, which features a joystick and mouse buttons, Shuttle's aim is for the U31 to be completely usable without a keyboard, while offering features including TV and PVR functions, music, picture and video playback and access to free online content, among others.
Another key ingredient of the U31 is a self-developed media shell application that Shuttle has been working on for over four months which provides tab-based access to all of the system's functions. According to Shuttle, its interface is easier to use than Microsoft's Media Center solution, and offers the benefits of OS independence (versions for both Linux and Windows XP are being developed), is multi-language and can be customized to meet the needs of different markets.
For example, Shuttle revealed it is currently working alongside content providers such as Chunghwa Telecom (CHT), which operates a subscription-based Multimedia on Demand (MOD) service in Taiwan, and hopes to be able to ship localized systems that are preconfigured for access to such paid-for services, replacing the need for customers to have multiple STBs attached to their TV. At its core the U31 is based on Intel's 945G-series chipset but Shuttle said it plans to tailor other system specifications for each market.
Alongside the U31, but of less interest to consumers, Shuttle is also demonstrating a system based on the same hardware but targeting the surveillance market. Minus the remote while adding additional surveillance and video capture hardware, this system utilizes the 7-inch panel for the display and control of closed circuit images. Shuttle has developed this system with two Taiwan-based partners from the surveillance industry and plans to bring it to market later in the year.
On Linux and Atom
Commenting on the growing popularity of vendors shipping Linux-based options, Shuttle said that it would support both Linux and Windows in the future, depending on market demand, but did not want to get involved in persuading its customers to choose one platform over another. The company said it has been pleased by shipments of its KPC K45 – a Linux-based system launched in February this year targeting cost conscious markets such as office terminal client and libraries – and said it plans to launch the slightly larger K48, which includes support of an optical drive, later in the year. Shuttle believes the K48 will be popular in the second home PC market.
Shuttle will also expand the KPC lineup with two further products, the K55 and K58. These share the same features of the K45 and K48 but will adopt Intel's Atom CPUs. These products are currently expected to start shipping in July, once Intel beings to release Atom supplies.
Also waiting for Atom is the X27, a new slim (7cm) value desktop that will compete for a share of the new nettop market along with products such as Asustek's Eee Box. While this market is relatively new for all companies involved, Shuttle hopes its reputation in SFF design should help make this new product popular.
Looking to the future, Shuttle revealed it is already working to shrink its Atom-based nettop products down to 4cm, and said it also has ideas for iMac-type systems, although it is still too early to talk about those. The company also stressed that it is still committed to its XPC product lines and will release new products as the chipset makers (Intel, AMD, Nvidia) come up with new models.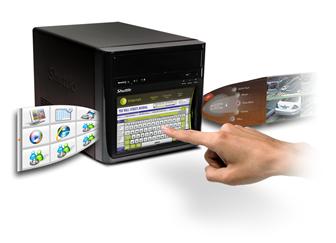 Shuttle U31
Photo: Company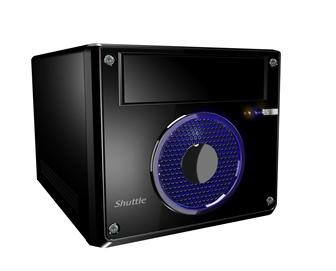 Shuttle K48
Photo: Company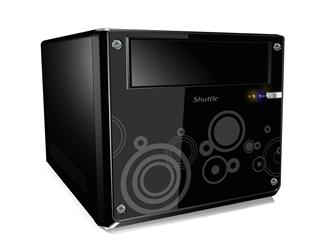 Shuttle K58
Photo: Company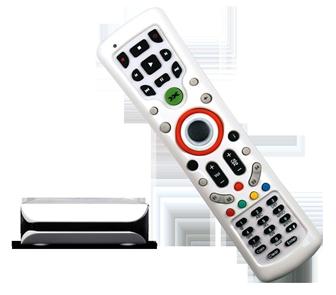 Remote control bundled with the Shuttle U31
Photo: Company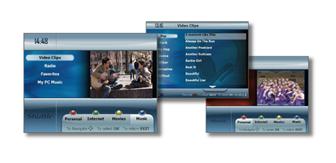 Shuttle Media Shell software
Photo: Company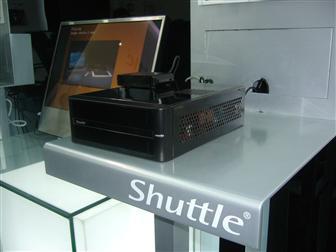 The X27 measures just 7cm tall
Photo: Ricky Morris, Digitimes, June 2008