The Shuttle XPC Prima SP35P2 Pro which we first saw around Computex 2007 has been launched.

The Shuttle XPC Prima SP35P2 Pro is an Intel P35 based system supporting 1333MHz FSB CPUs and up to 8GB of DDR2 800 memory, which Shuttle says can overclock to 1066MHz.
With the SP35P2 Shuttle has tried to step up its design to bring it in line with features most other motherboard makers are currently offering. Updates include all solid capacitors for better stability and reliability, and a heat-pipe cooling system that covers key system components such as the north and southbridges, which Shuttle calls Oasis.
The SP35P2 is equipped with an 80 PLUS certified power supply making it more energy-efficient and as it is a Pro model it offers a couple of value-added features such as USB Speed-Link technology to allow easier file sharing between two PCs and a fingerprint scanner for added security.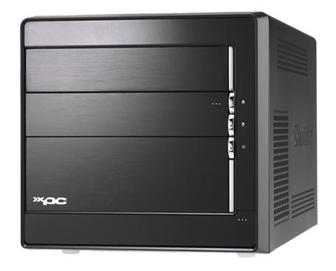 Shuttle XPC Prima SP35P2 Pro
Photo: Company