Shuttle introduced a SFF (small form factor) barebone PC, the XPC SN68PTG6 Deluxe, which features an integrated fingerprint scanner, WLAN, Bluetooth, Dolby Digital Live and DTS Connect.
Equipped with an Nvidia GeForce 7050PV/nForce 630a chipset, Shuttle's new SFF PC supports AMD's AM2-based multi-core processors. The PC can also accommodate up to 4GB of DDR2 800 memory with dual-channel support.
Nvidia GeForce 7050PV GPU delivers rapid onboard graphics with an HDMI port (DVI via an adapter) and a VGA output for dual monitors. The PC also features a PCI Express slot for higher performance graphics cards and a Speed-Link function, allowing for direct connection to PCs by USB.
The PC uses top-quality motherboard solid capacitors, according to Shuttle, noting that the energy needs of the whole system is taken care of by a 300W power supply.
Shuttle also offers the XPC SN68PTG5, which is similar to the Deluxe version but with only a 250W power supply and without WLAN, Bluetooth, Speed-Link and fingerprint scanner, noted the company.
Both Shuttle XPC barebones will be available in the coming weeks. The recommended retail price is 315 euros (US$430) for the SN68PTG6 Deluxe, and 239 euros for the SN68PTG5.
Shuttle XPC SN68PTG6 Deluxe and SN68PTG6 barebones specification

Item

Detail

Chipset

nForce 630a chipset

CPU support

AMD Athlon 64 X2, Athlon 64 and Sempron series processors

Memory

Up to 4GB dual channel DDR2 800 RAM (Overclock to 1066 MHz)

VGA

Nvidia GeForce 7050PV IGP with HDMI/HDCP
Source: Company, compiled by Digitimes, August 2007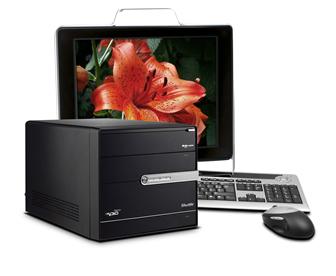 Shuttle XPC SN68PTG6 Deluxe barebone PC
Photo: Company