Shuttle announced on February 27 the XPC SD39P2 barebone, the company's latest small form factor PC supporting Intel's socket 775 processors, including the Intel Core 2 Quad, Core 2 Duo and Core 2 Extreme series models.
The SD39P2 can take up to 8GB of DDR2 800 memory in dual-channel mode spread over four memory banks and is compatible with the latest PCI Express graphics cards, such as the Nvidia GeForce 8800GTX/7950GX2 or the ATI Radeon X1900XTX, says Shuttle. The small form factor PC also has capacity to accommodate up to three SATA 300 hard disks, which can be run in combination as RAID 0, 1, 5 or 10, according to the company.
"The PCI slot is not extinct yet. With the XPC SD39P2 we're offering a high-end solution that will continue to support PCI cards," explains Tom Seiffert, Head of Marketing and PR at Shuttle Computer Handels GmbH.
The SD39P2 has has an external SATA port, Gigabit LAN and 8-channel sound, as well as a 400-watt power supply.
The XPC SD39P2 will be available for purchase soon, says the company. The recommended retail price from Shuttle is EUR 419.00 (without VAT).
Shuttle XPC SD39P2 specifications

Item

Details

CPU

Supports Intel Core 2 Quad, Core 2 Duo and Core 2 Extreme CPUs

Chipset

Intel 975X/ICH7-R chipset

Memory

Up to 8GB dual channel DDR2 800 with 10.7Gb/s (4 slots)

Graphics

Supports Nvidia GeForce 7950GX2/8800GTX and ATI Radeon X1900XTX

PCI/PCIe

1x PCIe x16 + 1x PCI 32-bit slots

Drive bays

3x 3.5" + 1x 5.25" drive bays

Audio

8-Channel HD-audio with SPDIF I/O

Connectivity

Gigabit LAN, 7x USB 2.0, Firewire

Supported drives

1x eSATA + 4x SATA 300 supporting RAID 0,1,5,10

Power supply

400W

Dimensions (l×w×h, mm)

325×220×210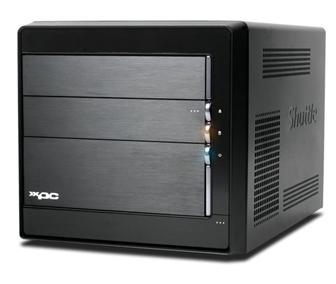 The Shuttle XPC SD39P2 barebone PC
Photo: Company