Asustek Computer has launched its 14.1-inch F8 notebook series featuring Infusion technology, which the company describes as a cutting edge manufacturing process used to produce the unique designs laptop surfaces
The F8 is equipped with an Intel Core 2 Duo processor, up to 2GB of DDR2 memory, DirectX 10 support and a choice of the ATI Mobility Radeon HD2600 or the Nvidia GeForce8600M GS, with the graphics engines stocked with 512MB and 256MB of physical VRAM, respectively.
The system is also equipped with a hybrid TV tuner, which supports both digital and analog signals. A card type remote control is also incorporated into the system, as well as a built-in swivel webcam.
Describing Infusion technology, Asustek indicated that design motifs are inlaid within the chassis itself and will not fade with time. The Infusion surface also provides a new level of resilience and resists scratches.
Asustek F8 series notebook specification

Item

Detail

CPU

Intel Core 2 Duo T7000 series

Chipset

Intel PM965 chipset

VGA

ATI Mobility Radeon HD 2600 with 512MB VRAM or Nvidia GeForce 8600M GS with 256MB VRAM

Display

14.1-inch widescreen color shine LCD

Memory

DDR2 533/667 memory up to 2GB
Source: Company, compiled by Digitimes, August 2007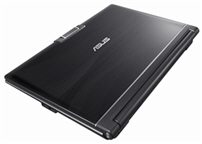 Asustek F8 series notebook
Photo: Company