A long-term fixture in Taiwan's motherboard industry, Shuttle phased out its motherboard business at the end of 2004, and now focuses its business around its XPC small-form-factor (SFF) PCs. DigiTimes.com recently spoke with product marketing vice president Jonathan Yi about competing in the motherboard market as a second-tier player and the challenges Shuttle now faces in growing its XPC business.
Q: Although executives from Shuttle have mentioned that the company quit the motherboard business, the company has never made any official statements. Can you tell us why Shuttle left the motherboard business?
A: Shuttle had been in the motherboard industry for over 20 years. However, over the past three to four years, this business was not providing us with any profits.
As a second-tier vendor, we were at a disadvantage, considering that first-tier vendors usually have 40-50 motherboard models on the market and another 20-30 models under development, while second-tier motherboard vendors have to try to compete with only 10-15 models. Actually, if you look at the Taiwan Stock Exchange (TSE), you will see that most second-tier motherboard companies have not been making any profits over the past few years.
So, rather than splitting our resources by continuing to invest in a losing proposition, we decided it would be a much better return on investment if we focused all of our R&D on XPC development.
Q: Do you think other second-tier motherboard companies will have to face similar decisions in the future, meaning do you see consolidation in the market?
A: If you look at Taiwan's motherboard industry, about 100 million boards are shipped each year, and the first-tier vendors – Asustek, ECS, Gigabyte and MSI – account for about 80% of the market. So, that leaves very little room for the 10-15 second- and third-tier companies that still produce motherboards.
In addition, the clone PC market is shrinking, as more and more consumers are buying PCs from the top 10 brands, and this trend is affecting the overall growth of the motherboard industry (according to MIC, Taiwan's motherboard shipments only increased 3.6% on-year in 2004 and the volume is expected to increase only 2.3% in 2005). In response to this trend, companies such as Asustek and Foxconn are cutting their costs and aggressively looking to expand their market share, which is making things even harder for second-tier makers.
In my personal opinion, three or four motherboard companies will account for most of the market in the future. There will be a place for some second-tier makers, but they will have to adjust to the structure of the market in order to survive. For a company like Shuttle, we cannot survive on 150,000 motherboards per month. Maybe that is a business for a company with less than 100 employees. The future will be that of a second-tier comprised of much smaller companies that specialize in niche or emerging markets. The companies need to find a niche where the larger players are not paying attention.
For us, we originally found our niche market with our XPCs in Japan. We have now grown our XPC business to the point where we can compete with first-tier motherboard vendors on brand-name and technology, so we do not need to rely on the motherboard business any more.
Q: Are SFF PCs still a niche market?
A: Well, in one sense SFF PCs are not a niche product, in the sense that all first-tier motherboard companies have marketed this type of product. However, companies like Hewlett-Packard (HP) and Dell have not really targeted the market, and the total shipment volume of is still only a small percentage of total PC shipments, so it is most definitely a niche market.
Q: Is it an advantage for Shuttle that the SFF PC market is still niche, in that you don't have to compete with larger players such as HP and Dell?
A: Not really. If companies such as HP and Dell entered the market, they might bring Shuttle down, but we do not think that way. As I mentioned, we have built up our brand in the market and we have confidence in our products. Apple is just as famous as those other large brands, and the introduction of the Mac mini has not impacted our shipments one way or the other.
However, those big brands do have a strong influence in the PC market and if they entered the SFF market, the overall shipment volume would most certainly grow, which is what we want. We want to expand the market, as that is the way to grow profits. Shipment growth is the nature of the PC business. The key to a company's success, though, is the manner in which it increases its shipments.
Q: If larger brands enter the SFF market, would you pursue OEM relationships with them, being that you have in the past had OEM relationships with some vendors marketing SFF PCs, or do you want to push your own brand?
A: We are not really interested in pursuing any OEM business and it is not only because we want to market our own-brand. It is not that simple. Our experience is that the OEM mentality is different from the one we want. The goal in the OEM business is to aggressively cut your costs, which ultimately hurts your innovation and quality. We do not want to be constrained by this kind of cost-down mentality. We currently produce 12-15 models per year and we have a lot of other experimental models that never make it to market. That is where we are spending our R&D money, on technical innovation and product design.
Q: Shuttle is quite well known in the gaming and enthusiast markets. Will you continue targeting this market, or will you also try to produce some more mainstream products?
A: In general, the price difference between our XPCs and standard PCs in the mainstream market is a challenge for us to overcome. For example, Dell can sell an entry-level system for US$499 whereas we would sell a similar system for US$699, due to the smaller size, quieter noise level and special design of our product. Mainstream customers have not yet been willing to accept that bump in price. However, on the higher-end of the market, the difference is less pronounced and users are willing to pay a little extra for the added features.
As a result, we have tended to focus on developing products for the enthusiast and professional segments. However, although this segment accounts for the bulk of our shipments, over the past six months our sales have been flat at 40,000-50,000 units per month. Before that, our shipments were growing. We believe that perhaps the barebones market has reached the saturation point.
Over the past four years, we have shipped about 1.5 million XPCs, and I believe some 70% of these products are still on duty, meaning that we have not hit the start of the replacement cycle yet. Of course, some enthusiasts do change their systems quite often, but that is only a small proportion of the market.
For more mainstream users, they may expect to use the product longer, maybe every four years. We have not figured out the exact replacement cycle yet. But since our products are priced higher than mainstream PCs, we believe that users will be able to get more mileage out of them, which means a longer replacement cycle.
Q: How about the market for systems?
A: In general, the systems market is for users who cannot assemble the systems for themselves. When it comes to things technical…forget about it. They just want to surf the Internet. They are also looking to pay mainstream prices for their products.
For example, Dell can sell an entry-level system for US$499 whereas we would sell a similar system for US$699, due to the smaller size, quieter noise level and special design of our product. Mainstream customers have not yet been willing to accept that bump in price. However, on the higher-end of the market the difference is less pronounced and users are willing to pay a little extra for the added features.
So, for the past year we have focused on introducing products for the enthusiast and professional segments, and most of our systems sales have been from those segments. However, as I said earlier, perhaps the shipment level has peaked.
If we were able to design a mainstream product that maintained the quality, performance and sound level of our current XPCs, while also narrowing the price gap with competing mainstream PCs, then we would see a big spurt in our XPC sales. However, growing the mainstream market has the risk of alienating your customers on the high-end.
There is still debate within our company on the importance of the lower end of the market. Some in our company think we should remain only in the high-end, while others believe we should introduce more mainstream products. There is no conclusion yet, meaning that any developments here are still in the discussion phase. However, if we want to stay in the market over the long-term, we will have to seriously consider mainstream products.
Q: Although your gross margins were above 10% in the first quarter of this year and the company made a profit, you had losses of NT$76 million in the fourth quarter of last year. Can you say anything about Shuttle's financial status?
A: Well as we discussed earlier, Shuttle exited the motherboard business at the end of last year, so there were a number of things that had to be written off. However, the big reason was the appreciation of the Taiwan dollar. In fact, the depreciation of the US dollar continued to affect our business into the first quarter of this year, which means our profits should have been even better for the last quarter.
Another contributing factor to last year's disappointing four quarter was the fact that our gross profits were lower. We did not have any strong product launches, which tend to give a boost to margins. However, the situation improved greatly in the first quarter of this year, with the launch of our nForce4-based XPC. Our second quarter results should be even better than the first, as the exchange rate is steadier and the new product effect is there.
Q: Can you tell us what is the outlook for the rest of the year?
A: Well, since we did not have any profits in the fourth quarter of last year, we are quite aware of the need to remain profitable. That is the short-term goal for the rest of the year. We will not be trying to expand our market share using pricing strategies this year. However, we will still introduce a total of 10-12 new products for this year. We may also look to expand our business in developing markets, such as in the BRIC (Brazil, Russia, India and China) markets. In these markets we can have a great deal of improvement.
Q: Will you add more new products at Computex?
At Computex, we are introducing our dual-core solution based on Intel's 945 chipset, as well as being the first SFF PC company to introduce a SLI (Scalable Link Interface)-supporting SFF PC.
In addition, we are developing our concept of the digital home, and we will be showing our streamlined Pentium M-based M1000, which we introduced at CeBIT earlier this year. This product will be released sometime this summer at the same time as our widescreen 20-inch LCD is launched.
Q: Are you optimistic about the market for the digital home?
A: The digital home is still a long way off. In terms of hardware, software and the user interface, we think it still has a long way to go. However, compared to the PC market, it has much more of an upside. At this point, companies need to get involved by introducing products. Unless you get involved in the early stage, you will end up being a follower, which may mean sacrificing your quality or profits.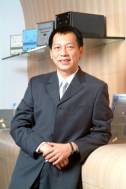 Shuttle product marketing vice president Jonathan Yi
Source: Company