Small-form-factor (SFF) PCs and servers can now adopt multi-processing with the unveiling of VIA Technologies' EPIA DP-310 motherboard at CeBIT 2005. The Mini-ITX (17x17cm) board is powered by two 1GHz Eden-N processors coupled with the company's CN400 chipset featuring DDR400 memory support, integrated 128-bit UniChrome Pro graphics and hardware acceleration for MPEG-2 and MPEG-4.
Peripheral features of the board include one Gigabit Ethernet port, two Fast Ethernet (10/100Mbps) ports, one PCI slot, one Mini-PCI Type IIIA connector, one Ultra ATA/133 connector, two Serial ATA channels (with RAID support), up to four USB ports and VIA's Vinyl Six-TRAC audio codec. "In bringing dual-processing to the Mini-ITX platform, VIA has raised the bar yet again for small form factor innovation on the x86 platform," stated Richard Brown, associate vice president of marketing at VIA.
According to VIA, the new motherboard has been released to target "corporate system integrators, embedded application developers, enthusiasts, and other small-form-factor system builders." The company mentioned so-called "appliance servers" as one of the possible application areas for the EPIA DP-310 and other boards with similar features. VIA defines these servers as "network-enabled, service-dedicated devices designed to deliver a single service or function across the corporation or a workgroup." Following this definition, a typical appliance server might manage functions such as web caching, security operations (for example firewall, anti-virus, VPN or encryption), personal storage and backup or Internet access.
A few lesser-known companies, such as Bleu Jour from France, IPC2U from Germany and Mirra from the US, were named at CeBIT as system integrators supporting the EPIA DP-310. According to VIA's estimates, the board will begin mass production at the beginning of May. Finished products are expected to be ready for market in the second half of this year.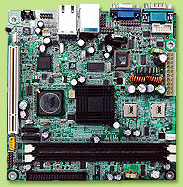 VIA's EPIA DP-310 board is powered by two 1GHz Eden-N processors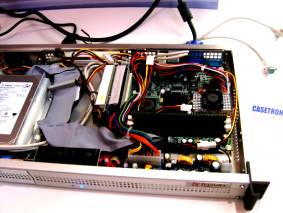 The two 1GHz Eden-N processors share a single cooler.
Photo: Vyacheslav Sobolev, DigiTimes.com, March 2005.