On the heels of launching the EY855-II XC Cube, its first Intel Pentium M-based small-form-factor (SFF) PC, AOpen is now preparing for the March launch of its smallest XC Cube SFF PC to date, the MZ 855, according to sources at the company.
The Intel 855GME-based system, which the company has dubbed the Cube Mini, will only be 106mm tall and will support Socket 479 Pentium M processors, a 400MHz FSB and up to 2GB of DDR333 memory. Although running a notebook CPU, the MZ 855 will still support desktop hard drives, and features two front-panel USB ports.
By using a notebook processor in the SFF PC, AOpen has been able to design a highly compact system – even for SFF standards – that also runs quietly, at only 27dB when fully loaded, the sources explained. However, with a 150W power supply and support for graphics cards only up to 185mm in length, the MZ 855 is not targeted for all enthusiasts, but rather to those who value space-saving above all else, the sources pointed out. Although AOpen plans a global release for the MZ855, the first target market will be Japan, the sources added.
The release of the MZ 855 SFF PC demonstrates AOpen's dedication to pushing notebook CPU solutions on the desktop. The company claims that last November it was the first company to release a desktop motherboard based on the Socket 479 Intel Pentium M CPU, and this month stated it was the first company to release an SFF PC based on the i855GME.
By the middle of the second quarter, the company will also release a version of the Cube Mini based on the Intel 915GM chipset, the sources stated.
One reason vendors may begin offering more notebook CPU-based desktop solutions this year is the increased availability of notebook CPUs in the channel, the sources noted. Intel has increased its support for the clone notebook market and is looking drive up the share of clone notebooks in the global notebook market to 30-35% in the next two years, other sources explained. The chip giant has also introduced its Common Building Block (CBB) program to help simplify the integration and distribution of notebook computers, which should mean more notebook CPUs available in the channel.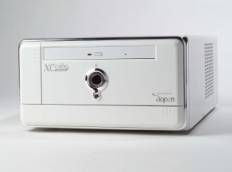 AOpen Cube Mini
Photo: Company