After some fits and starts, Elitegroup Computer Systems (ECS) is back on track and shipping its EZ-Buddie 2 small-form-factor (SFF) PC in volume, according to sources at the company.
ECS began shipping the EZ-Buddie 2 in September 2004, and shipped about 5,000 units the first month. However, beginning in October, the company faced a shortage of the modules used in the unit's front-panel system status display. According to the sources, ECS was forced to discontinue shipments of the SFF PC for two months, and by the time shipments resumed in December, the company had missed the key Christmas season and lost some customers to its competitors.
However, despite shipping only 2,000 units in December, the company is now ready to ship the systems in volume, and ECS is confident it will be able to quickly increase its monthly shipments to about 10,000 units, the sources added.
The EZ-Buddie 2 is a variation on the SFF PC theme. ECS took a cube-shaped SFF PC and attached two large speakers to the sides, giving the product the appearance of a portable stereo system. The system, which ECS calls a personal entertainment computer (PEC), also includes an alarm clock, remote control and instant-on Linux-based DVD player and FM radio, all of which add to the consumer electronics (CE) feel of the product. ECS has also made it easy for non-enthusiasts to maximize the performance of the system by including a rotary dial on the front panel for overclocking the CPU.
Since the product targets mainstream consumers and students, ECS does not focus its sales in the barebones channel, as other SFF PC vendors do. Instead, the company tends to work with local systems integrators (SIs), and is currently cooperating with small SIs in Japan, US and Europe, the sources explained. In addition, ECS may look to partner with more chain stores to grow its SFF PC business, much as it has done with its notebook business, where it partners with Wal-Mart, Fry's and Dixons, the sources added.
The display module shortage highlights one of the difficulties SFF PC vendors face as they begin offering more complex system designs: the management of an expanded supply chain. Sources from another SFF PC vendor, while denying that it also faced a shortage of display modules in the fourth quarter of last year, did admit that its module supply is difficult to control, as the lead-time is about 4-6 weeks. Another SFF PC vendor, Micro-Star International (MSI), recently exhibited a simplified version of its Mega PC, which did not include its usual front-panel display module.
Another challenge SFF PC vendors face is transitioning from one generation of product to the next. Through the first eight months of 2004, ECS had monthly shipments of 15,000-20,000 units of its EZ-Buddie 1 PC, but the company phased out production of the system in the fourth quarter and decided to focus on the EZ-Buddie 2 instead, the sources explained.
For its non-SFF PC business, ECS had average monthly shipments of about 30,000 barebones units in 2004, the sources indicated. The company plans to increase those shipments to about 60,000 per month this year, the sources added.
ECS EZ-Buddie 2

Feature

Specification

Dimensions (HxWxD)

220 x 180 x 320mm

Form factor

SFF (proprietary)

Processor support

Intel Pentium 4

Core logic

Intel 865G

Video

Integrated

Instant-on features

DVD, VCD, audio CD, FM radio

LCD display module

Hardware diagnostics and alarm

System/CPU temperature

Multimedia (EZ Cinema) indicators

FM Radio/Clock

Remote control

Yes

Speakers

10W (5W + 5W, RMS)

20Hz~20KHz
Source: company, compiled by DigiTimes, February 2005.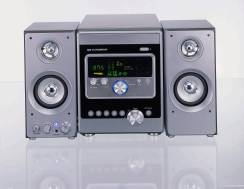 ECS EZ-Buddie 2 SFF PC
Photo: Company