Complete coverage of Computex Taipei 2012 at DIGITIMES. The show will be held from June 5-9. It is the largest show in Asia, and one of the world's leading ICT event.
GIGABYTE Technology, a leading manufacturer of motherboards and graphics cards, announced that GIGABYTE Ultra Durable 5 Technology utilizing award winning IR3550 PowIRstage ICs has...

Beijing IRTOUCH Systems Co., Ltd., the world leading touch product provider (Shenzhen Stock Exchange - SZ 300282), attend COMPUTEX Exhibition again and brings a variety of infrared...

The COMPUTEX 2012 officially kicked off in Taipei, Taiwan on June 5th. ASRock showcased an array of latest motherboard products as well as ultra-thin HTPC series that brings impeccable...

Taipei, Taiwan - PNY Technologies, Inc, a worldwide leader in USB flash drives and a leading manufacture in memory products, today announced the new Mini M1 USB Flash Drive. Featuring...

Compuware Technology, a Taiwan-based server power supply unit maker that was founded in September of 2004, currently has about 300 employees worldwide and is targeting its business...

Taipei, June 4, 2012 - In its 32nd year and as Asia's largest computer exhibition, COMPUTEX TAIPEI 2012 is kicking off on June 5. The world-renowned ICT manufacturer MSI will be showcasing...

Taipei - At Computex 2012, SAHPPHIRE Technology will display many all-new solutions and products in this international event, including the most popular globally sold entertainment...

Smart devices have been showing significant growth in recent years and the sales of smart devices such as Android phones, iPhone and iPad have continued to break records. With that...

Asustek Computer has unveiled its latest ultrabook innovation with the announcement of Asus Taichi – a tablet PC and ultrabook hybrid with a top cover that is itself a double-sided...

While AMD announced the latest E-series accelerated processing units (APU) for its ultrathin notebook design to compete against Intel's ultrabook plans, John Taylor, director of Global...

To accelerate the penetration of its second-generation ultrabook, Intel has come up with a plan to promote the machines in emerging markets.

During a keynote address at Computex 2012, Steven Guggenheimer, corporate vice president of the original equipment manufacturer (OEM) division at Microsoft, demonstrated the breadth...

Clientron Corp., a world-leading supplier of thin client and embedded systems, in collaboration with Texas Instruments Incorporated (TI), debuts it first TI SoC (System-on-Chip) based...

Taipei, Taiwan - During Computex 2012 KINGMAX (booth I0830, 1F, Nangang Exhibition Hall) will demonstrate their full range of industrial solution - SSD, memory cards, DRAM and embedded...

ETASIS ELECTRONICS, a worldwide leading provider of high-performance switching power supplies, officially unveils New Era of Industrial Redundant Power Supply that are Server Grade...

With the 2012 COMPUTEX Taipei opening at the Taipei World Trade Center from June 5~9, HOLUX brings you the latest products including car digital video recorder GVR-2100 G1, robust...

Target at low-power, high-performance, DIN-rail applications. FabiaTech has revealed their latest new product FX5325 small system. It supports MPEG2, MPEG4 and H.264 hardware decoding...

Computex Taipei, Taiwan, June 4, 2012 - The Gores Group has officially completed its acquisition of Elo TouchSystems from TE Connectivity. The new company, Elo Touch Solutions, will...

Gigabyte, through its smartphone specialist subsidiary Gigabyte Communication, is aggressively promoting its smartphones products and is showcasing its new smartphones at Computex...

AMD has announced the launch of its latest AMD E-series accelerated processing unit (APU) platform. Designed for essential notebook and desktop personal computers which meet basic...

ADATA Technology, a world leader in DRAM modules and NAND Flash memory, today announced "The Dash to Infinity" as the theme of the ADATA booth at COMPUTEX TAIPEI 2012. ...

U-Reach will be demonstrating, once again, how it has earned the reputation as duplication expert in the 2012 Computex. As expected of the industry leader, there will be new product...

While the natural resources are slowly been drained, yet energy costs continuously grows, with over 10 years of experience in high efficiency power supply unit field, as one of the...

Gigabyte Technology maintains a well-deserved reputation as a major motherboard maker and vendor but the company has also become a talented and successful notebook designer over the...

GIGA-BYTE COMMUNICATIONS INC. takes part in COMPUTEX 2012 at Taipei and showcases our new smart phones, GSmart G1342 and GSmart G1362. These two smart phones are equipped with the...
Related photos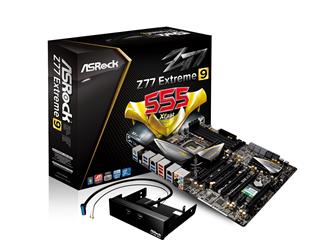 Computex 2012: ASRock reveals the new Z77 Extreme9 motherboard
Photo: Company, Jun 11.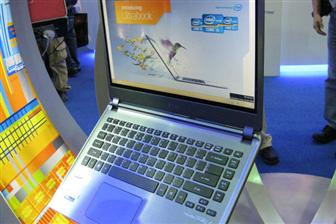 Acer ultrabooks
Photo: Digitimes, Jun 8.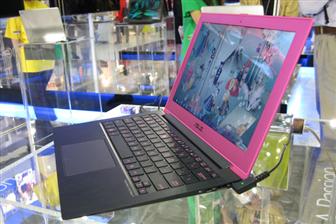 Asustek adds bright colors to its ultrabooks
Photo: Digitimes, Jun 8.