84 news items tagged Chromebook
Worldwide top-5 notebook brands saw their combined shipments drop around 30% sequentially in April primarily due to seasonal factors, but compared to the same month in 2017, the volumes...

Computing device ODMs are in talks with their customers about raising their contract quotes to reflect rising materials costs, according to Compal Electronics president Ray Chen.

Worldwide top-5 notebook brands saw their combined shipments increase slightly from a month ago in February, led mainly by US-based vendors. As for the first two months of 2018 combined,...

Acer is looking to grow its share of the enterprise notebook market in the Middle East and Africa to 15% in 2018 from only 2% in 2017, according to country manager Paul Collins.

With the notebook market entering the traditional slow season, the worldwide top-5 notebook brands saw their combined shipments drop for the second consecutive month in January 2018...

Acer has unveiled its new PCs and monitors for CES 2018 including the Nitro 5 gaming notebook adopting AMD's Ryzen processor and targeting casual gamers, the ultra-thin Swift 7, the...

Four out of the top-5 notebook brands experienced on-year shipment declines in October mainly because of weak demand from the consumer sector. The vendors turning their focus to boosting...

Global shipments of notebooks (excluding detachable 2-in-1 models) declined 4.2% on year to 40.79 million units in the third quarter of 2017 as weakening demand in the consumer sector...

Google has recently announced its latest Pixelbook featuring a 360-degree foldable touchscreen display. Sources from the upstream supply chain have disclosed that the device is manufactured...

Acer's president of IT products business Jerry Kao, commenting on the gaming product business, has pointed out that the competition in the market is extremely fierce and it will be...

Worldwide shipments of traditional PCs (desktop, notebook, workstation) totaled 60.5 million units in the second quarter of 2017, posting an on-year decline of 3.3%, according to...

Acer's PC business has been focusing on high-margin segments, including gaming notebooks, ultra-thin models and 2-in-1s, with each segment faring well in the first five months...

The ongoing slump in shipments of standard PCs along with the drop-off in tablets are setting the stage for handset IC sales to finally surpass IC revenues in total personal computing...

Acer has been expanding its Chrome-based product lines recently and company CEO Jason Chen expects its Chromebook sales to enjoy a double-digit percentage growth in 2017.

Acer expects double-digit percentage growth in 2017 shipments for Chromebooks and gaming PCs and, for Chromebooks in particular, Acer has market shares of 30-35% in the North America...

Worldwide notebook shipments (not including 2-in-1 devices) increased 8.6% sequentially in the third quarter thanks to growing demand from the enterprise sector, vendors preparing...

Despite weakening worldwide notebook demand, Inventec still expects its notebook shipments to grow on year in 2016 thanks to stable shipments to the enterprise sector; however, revenues...

Google has announced that new Chromebooks rolled out by its notebook partners will start supporting Google Play, a move which is likely to substantially ramp up shipments of Chrome...

Acer has expanded its line of Chromebooks with the Acer Chromebook 14 with a battery life of up to 14 hours. In addition, the device is equipped with a 14-inch display and an all-aluminum...

Worldwide notebook shipments started seeing growth in September after over six months of inventory digestion. The growth was stimulated by Microsoft Windows 10 released at the end...

According to the latest market data findings from ABI Research, total system shipments for portable computing are predicted to reach 165 million units for full-year 2015, essentially...

With Windows 10 set to be launched later this summer, Microsoft will enjoy a lot of attention at this year's Computex, as visitors look to get a better glimpse into how the operating...

In addition to Lenovo's N21 2-in-1 Chromebook launched in February and Asustek Computer's Chromebook Flip 2-in-1 device announced in April, Google, Hewlett-Packard (HP) and Acer are...

Worldwide Chromebook sales to end users is on pace to reach 7.3 million units in 2015, a 27% increase from 2014, according to Gartner. Education is the primary market for Chromebooks...

Google's Chromebook team has come to Taiwan to talk with Acer and Asustek Computer as well as Quanta Computer in a bid to seek cooperation to extend marketing of Chromebooks from...
Related photos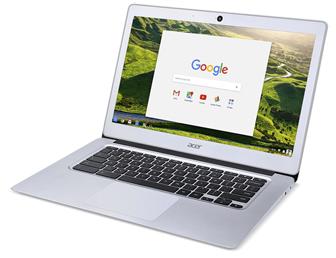 Acer Chromebook 14
Photo: Company, Thursday 7 April 2016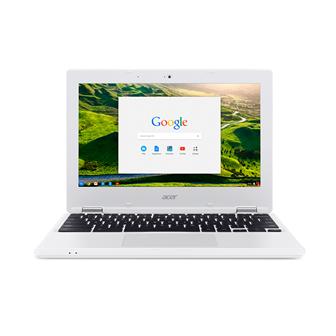 Acer Chromebook 11
Photo: Company, Thursday 7 January 2016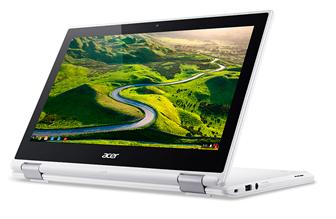 Acer Chromebook R 11
Photo: Company, Monday 14 September 2015
Related news around the web