103 news items tagged Ericsson
Ericsson will launch HSDPA+ mobile broadband modules with download speeds of up to 21Mbps in 2010, with plans to also roll out LTE modules in 2011-2012, according to Mats Norin, vice...

Foxconn International Holdings (FIH) plans to consolidate a total of eight handset R&D units belonging to member companies within the Foxconn Group, including Foxconn Electronics,...

Asustek Computer plans to establish a joint venture with Garmin in 2010, aiming to push sales of Garmin-Asus dual-brand smartphones, according to industry sources.

Ericsson will showcase a variety of terminal end mobile broadband devices co-developed with international IT players as well as Taiwan makers at the upcoming Broadband Taiwan 2009...

Competition for market share in the Taiwan handset market will heat up again in the last quarter of 2009 as most vendors, especially Sony Ericsson, are gearing to launch new models,...

Sony Ericsson has placed ODM handset orders for 2010 with Taiwan handset makers after the company released orders for only two models to its production partners in Taiwan in 2009,...

Ericsson has signed up a supply contract with China Mobile worth 6.8 billion yuan (US$995.6 million) and another with China Unicom for 4.8 billion yuan, according to recent local...

The tally of wireless operators committed to deploy LTE networks and offer LTE-based services to their subscribers in 2010 has climbed to at least 12, according to ABI Research. By...

Ericsson is looking to work closely with the netbook manufacturing ecosystem in Taiwan, which it regards as the most important production base for netbooks, in order to tap the rapidly...

The number of mobile subscriptions in China is expected to surpass the one-billion-mark by 2013, having reached 641 million in 2008, according to Mats Olsson, president of the Greater...

Arima Communications is expected to start shipping the S312 EDGE-enabled handset to Sony Ericsson later this quarter, according to market sources.

Market reports are circulating again that Ericsson is planning to withdraw from its 50/50 joint venture Sony Ericsson with Sony – a move that may cause a drastic change in partnerships...

Although a number of the leading telecom equipment providers, including Ericsson and Alcatel-Lucent, are urging the Taiwan government to look at the development of Long Term Evolution...

There will be estimated global demand for 50 billion Internet connected devices of various types in 2020, including handsets, desktop PCs, notebooks, MIDs (mobile Internet devices),...

Ericsson has been ranked at the top of ABI Research's new evaluation of worldwide managed network services vendors, with Alcatel-Lucent and Nokia-Siemens Networks claiming the second...

Handset vendors Samsung Electronics and Sony Ericsson are introducing new product lines and both companies are confident they can wrestle the handset crown from Nokia in the local...

By 2012, HSPA (high speed packet access)- and LTE (long term evolution)-enabled technologies will account for 80% of mobile broadband services, while WiMAX related services will account...

Ericsson, while continuing to expand its share in the global telecom equipment market, is readying to take on increasing competition from other rivals, especially China-based Huawei...

Sony Ericsson is still evaluating the possibility of venturing into the production of TD-SCDMA handsets, according to Carl-Henric Svanberg, president and CEO of Ericsson. Svanberg...

STMicroelectronics has made four major acquisitions since 2007 – Genesis Microchip, Nokia's 3G and 3.5G R&D team, NXP Semiconductors and Ericsson Mobile Platform (EMP)....

China Unicom has opened bidding for equipment purchases in preparation for rolling out its WCDMA network, attracting eight equipment makers to participate: Ericsson, Nokia Siemens...

Ericsson is in talks with a number of Taiwan makers for cooperation in HSPA mobile broadband modules, focusing on MID (mobile Internet device) products at present, according to Mats...

Ericsson has announced that it is collaborating with Intel to bring HSPA mobile data solutions to mobile Internet devices (MIDs). Ericsson is thereby extending its 3G mobile broadband...

China Mobile has launched a second round bid for TD-SCDMA wireless network equipment which has attracted the attention of many China-based and international companies. Nokia Siemens...

Sony Ericsson plans to launch its first 8-megapixel cameraphone, the C905, in the Taiwan market in October, making it the first branded vendor to introduce such a high-profile multimedia...
Related photos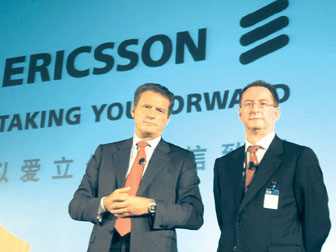 Ericsson said it will invest US$1 billion in China
Photo: Staff, DigiTimes, Thursday 8 September 2005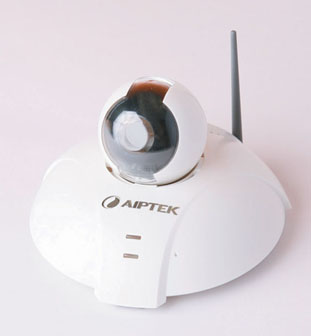 Ericsson and Taiwan-based trio co-develop mobile IP cam
Photo: company, Wednesday 24 August 2005
Related news around the web