Lanner Electronics has announced the launch of a new fanless embedded computer based on the Intel Celeron M processor and Mobile Intel 910GMLE Express chipset.
The Lanner LUGE EM-F343 embedded computer is designed for flexible deployment in any scenario, said the company. Its robust fanless design makes the EM-F343 ideal for video applications such as digital signs, outdoor advertising, POS systems, kiosks and embedded gaming computers. It includes S-Video and VGA out video interfaces, COM port, LAN and six USB 2.0 ports for administration and software input, and SATA and CompactFlash support for storage. The onboard 600/1000MHz Celeron M processor couples low power consumption with minimal cooling requirements, resulting in improved stability and longevity and allowing for completely fanless computer design, highlighted Lanner.
The LUGE EM-F343 is made with a rugged aluminum chassis and is tested for deployment in temperatures from -20 to 50-degrees Celsius. Measuring 36mm in height, the Lanner LUGE EM-F343 includes wall mounts and optional VESA mounting brackets for installation on the back of a large-screen digital display or any other location where space is critical.
The LUGE EM-F343 is available now.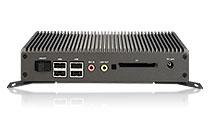 Lanner LUGE EM-F343 embedded computer
Photo: Company