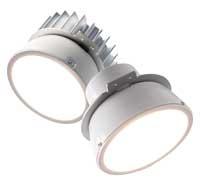 Cree has introduced a new LED module, the LMR4, which is designed to accelerate the adoption of LED lighting by traditional lighting fixture manufacturers and speed time-to-market for their new LED-based fixtures.
The LMR4 integrates driver electronics, optics and primary thermal management, making the compact Cree module drop-in-ready, the company said.
The module is designed to last 35,000 hours while consuming 12 watts of power, and it delivers 700 lumens at a warm-white color temperature of 2700 with a CRI less than 90.
The LMR4 (120V) is UL recognized and the LMR4 (230V) complies with multiple international standards such as Energy Star, the company said.