A tri-party group consisting of Chunghwa Telecom (CHT), Kingwaytek Technology and Tamsui Bus has begun autonomous passenger transport services on a dedicated section along a light rail line in New Taipei, according to sources at CHT.
The services leverage an autonomous driving platform that integrates C-V2X (cellular vehicle-to-everything) wireless communication system, self-driving buses, roadside sensors and a cloud monitoring system, said the sources.
As related IoV services are emerging as one of the most important 5G applications, CHT is striving to integrate related technologies, including AiOV, C-V2X, LiDAR and 5G to develop technologies and solutions enabling smart transportation, the sources added.
To support self-driving platform, CHT has established a monitoring center in an area adjacent to the light rail line to handle real-time location information about the self-driving buses and images of surrounding environments, traffic signals, traffic flows and weather conditions through C-V2X applications, noted the sources.
The self-driving buses are developed and built by Kingwaytek, a provider of digital maps for car navigation and other autonomous solutions, said the sources.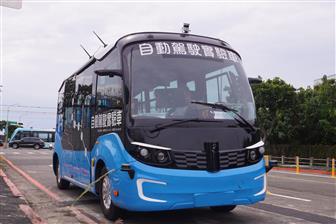 A self-driving bus developed by Kingwaytek
Photo: Yihan Li, Digitimes, August 2020