Amazon Web Services (AWS), Microsoft Azure and Google Cloud Platform (GCP) have offered AIaaS (AI as a service) products to promote application of AI technologies through reducing technological barriers for developers of AI solutions, according to Digitimes Research analyst Joyce Chen.
Chen was speaking at a "5GxAI Trends" seminar jointly hosted by Monte Jade Science & Technology Association of Taiwan and Digitimes.
Voice assistants are a typical application of AI to daily life, Chen said. Smart speakers, for example, involve upstream technologies in the AI supply chain, including basic computing, data/information and machine learning frameworks, and mid-stream technologies such as common voice technology, with cloud computing platforms playing a key role in the AI supply chain, Chen noted.
AIaaS products offered by AWS, Azure and GCP mainly consist of edge AI tools used in IoT, AutoML (automated machine learning) and MarTech (marketing technology), Chen said.
Edge AI tools, such as AI cameras, help users to test AI solutions developed themselves to shorten time to market, Chen indicated.
AutoML automates the process of applying machine learning to solving problems through replacing labor-consuming repeated work entailed in machine learning modeling, Chen noted. For example, Amazon SageMaker simplifies the process of machine learning modeling; GCP GUI (graphical user interface)-based AutoML services exempt users from any encoding; and Azure AutoML services enable users to see effects in training of machine learning models, Chen said.
MarTech, such as precision marketing, uses AI to generate the most commercial value from using operating data to hike business performance, Chen indicated.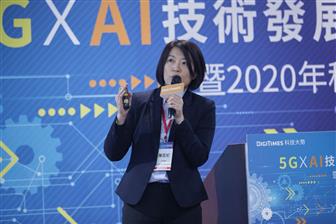 Digitimes Research analyst Joyce Chen
Photo: Digitimes staff, December 2019