5G/Innovation Summit 2019, an event focusing on empowering innovation in the 5G era organized by Taipei City's Department of Economic Development with support from Digitimes, will take place in Taipei on November 25.
HP Tech Venture partner Mitchell Weinstock will deliver a keynote speech "Strategic Investing, Making Corporate Venture Capital Work." Orange Silicon Valley startup investment expert Jay Onda will speak about "How 5G is Enabling Innovation by Collaboration." And phireGEN Advisory Group managing partner Leland Lai's speech will be "Re-imagine City Life with 5G Applications."
Enterprises' investment in startups has taken up over 20% of global venture capital investment, as startups' momentum in technological innovation is far larger than the enterprises' own, Weinstock said.
Cooperation among the government and private sectors is crucial to hiking efficiency in innovation and producing innovative ideas, Onda noted, adding Orange Silicon Valley hopes to gain more understanding of Taiwan's ICT industries.
5G has potential of being applied to VR devices, smart city and smart transportation solutions, Lai said.
As of the end of June 2019, 293 telecom carriers were experimenting or in trial operation of 5G networks in 98 countries, and 55 of them were setting up 5G networks. Mobile telecom carriers in South Korea took the initiative globally to offer 5G commercial services, with the total number of users expected to reach four million by the end of 2019.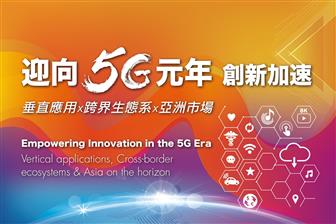 5G/Innovation Summit 2019 to take place November 25
Photo: Digitimes