Mechanical motion control component and industrial robot maker Hiwin Technologies is exhibiting its smart ball screws at Japan International Machine Tool Fair (JIMTOF) 2018 in Tokyo during November 1-6.
With product development beginning 10 years ago, Hiwin is globally the first to offer smart ball screws, company chairman Eric Chuo said at the fair. In machine tools and general machines, ball screws are used in motion transmission and precise positioning.
Smart ball screws are equipped with sensors to detect signals concerning physical properties of ball screws in operation, mainly service life, abnormal vibration, lubrication and rise in temperature, and such signals are analyzed by AI (artificial intelligence)-based modules built in industrial PCs for cloud-based visualized display to remotely monitor many machines simultaneously.
Detection of signals regarding service life enables maintenance personnel to know the appropriate time for replacing worn ball screws in advance, while that regarding abnormal vibration gives early warning about functional failure in machines which may result in sharp decreases in yield rate. Detection of signals concerning lubrication is to automatically indicate the appropriate time to adjust operating frequency for replenishing lubricating oil flexibly in order to minimize cost for lubricating oil. Detection of signals regarding rise in temperature gives warning for too high temperature for controlling operating temperature with a normal range to avoid impact of much heat on the function of precise positioning.
Hiwin plans to kick off production of smart ball screws in 2019, Chuo noted. Hiwin has entered the Japan market for 19 years and become the second largest supplier of ball screws, linear guideways and other motion control components, Chuo indicated.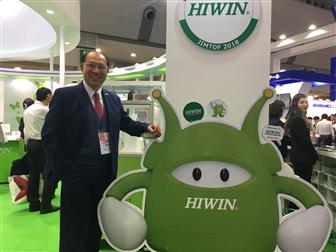 Hiwin chairman Eric Chuo at JIMTOF
Photo: Chloe Liao, Digitimes, November 2018