The USB Implementers Forum (USB-IF) is a non-profit industry group and support organization for the advancement and adoption of Universal Serial Bus technology as defined in the USB specifications. There are currently more than 1,000 member companies worldwide. This year, USB-IF and its members showcased new USB capabilities and products within a community on the 4th floor of Nangang Exhibition Center at Computex Taipei 2018. This is the eighth consecutive year USB-IF attended the show to highlight its latest technical developments and progress. In this interview, we got the opportunity to talk to Jeff Ravencraft, USB-IF's president and chief operation officer about the newest USB-IF developments.
First of all, the USB 3.2 specification was finalized and announced in September 2017. This latest standard maximizes the potential of existing cables by enabling the development of hosts and devices to support two lanes of SuperSpeed USB or two lanes of SuperSpeed USB 10 Gbps, for a maximum performance of 20 Gbps.
Meanwhile, USB Power Delivery (USB PD) adoption continues, expanding the USB ecosystem. USB PD fulfills the charging requirements for PCs, tablets and other mobile devices along with data over a single cable.
Ravencraft said optimistically the three key elements of USB - SuperSpeed USB 20 Gbps data transmission rate, USB charging, and single-cable ease of use with USB Type-C(TW) - are making USB the best physical wiring interface for electronics. The silicon IP vendors, chip makers, testing certification laboratories and equipment suppliers are working together to provide the solutions for optimizing business and to further accelerate the adoption of USB technologies.
USB-IF new certified logos for less confusion
According to an IHS report published in December 2017, USB Type-C is forecast to dominate mobile devices, PCs and other consumer electronics, plus the automotive market, with an estimated five billion devices by 2021. Ravencraft highlighted that with USB charging capabilities up to 100W and data transmission up to 20 Gbps, USB is more complex than ever. Given the complexity, power and performance capabilities of these specifications, it is important for manufacturers to devote the necessary resources to build compliant products and submit them for testing by the USB-IF Compliance Program to achieve USB-IF certification.
The current logo system includes original USB, SuperSpeed USB, SuperSpeed USB 10Gbps and USB charging certified logos for devices, cables or chargers. Once a product successfully achieves USB-IF certification, the company can a sign logo license agreement and then use the certified logos for identifying the performance and charging capabilities supported.
USB Authentication helps protect devices
Certified USB logos display functional features on devices, cables and chargers to indicate that these products are certified by the USB-IF. But there remains yet another potential hazard for example, if consumers use faulty products such as chargers or cables, they are putting their devices at risk. For these reasons, the USB-IF has established USB Authentication, which is an optional security protocol. USB Authentication is a way for hosts, like laptops and desktops, to authenticate devices that are connected to it and thereby protect against faulty chargers, cables and other devices before equipment is damaged.
During the USB Authentication process, the host has the ability to verify many parameters of any given product, including whether the device has been certified by the USB-IF. A host will likely implement a policy on how to manage products based upon what it can authenticate for the device. For example, security professionals have long warned of the potential for unknown USB drives to infect a PC with malware. If implemented, this feature would address a persistent weak spot in enterprise security, stemming from the willingness of people to stick any USB drive they find into their machines. Another use case for smartphone owners, at an airport for example, is the ability to set a policy that restricts the phone to charging only from USB-IF certified charging solutions.
Continuous momentum to promote USB Type-C across all electronics
The USB PD controller chip makers announced more semiconductor solutions to support the secured mechanism for connection between PCs, smartphone, peripherals, home robotics and other electronics that charge over USB. The USB PD 3.0 standard has supported power ratings from 7.5W to 100W, and the bus voltage from 5V up to 20V maximum to increase the flexibility of design. A single USB Type-C cable could provide the service for all of them.
On the other hand, leveraging the ability of USB Type-C standard, DIGITAL EUROPE recently announced a "Memorandum of Understanding (MoU)" on the future common charging solution for electronics, as it reaffirms the industry's firm commitment to provide unified charging solutions by building on the success of the first MoU from June 2009. This MoU is helping USB Type-C become more and more prominent in the marketplace and will most likely make it the mainstream charging solution in the years to come, gradually replacing existing interfaces in a broad range of electronic devices.
USB Type-C boosting automotive applications
With more benefits from new USB standards, the transition to USB Type-C is well underway across industries. The automotive market is one key example of this adoption and major chip makers are providing solutions tailored to the needs of the automotive applications. In addition to ADAS, USB is also a key interface for Infotainment SoC. The infotainment SoC needs to support connections to a selection of input and outputs such as the navigation system and user capabilities.
The use of the USB Type-C standard in automotive applications is expected to increase, as it's simply the most robust and ubiquitous interface that provides designers and end users with the greatest flexibility for use and expansion. As Level 3 autonomous cars are launched in the second half of 2018 and the coming years, these new self-driving cars are able to take complete control and allow drivers and passengers to carry out other tasks like playing video games or reading a book. The driverless car is a great case study for every industry facing disruption. Many use cases are under estimation and study. But there are needs for exchanging data or fast charging mobile devices in cars. This will help USB Type-C standard to be used in the cars of the future.
The Certified USB Charger Logo & Compliance Program from USB-IF supports the evolving device and computing markets as more products adopt USB Type-C and USB Charging.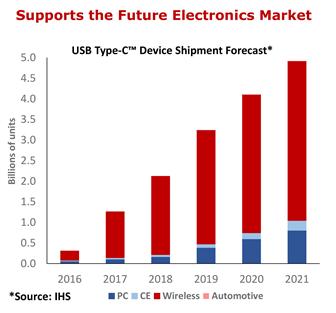 IHS predicts nearly 5 billion devices will utilize USB Type-C by 2021.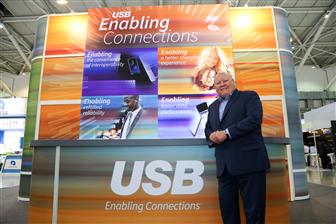 USB Implementers Forum (USB-IF) President and COO Jeff Ravencraft.
DIGITIMES' editorial team was not involved in the creation or production of this content. Companies looking to contribute commercial news or press releases are welcome to contact us.