Amazon Web Services (AWS) made its first-ever appearance at the Computex Taipei trade show this year. Its exhibits were a highlight among other AIoT-themed booths. AWS has hosted tech forums, such as AWS Summit Taipei, that were highly-praised and well-attended by high-tech communities and AWS partners in Taiwan. At Computex 2018, AWS presented achievements by its partners in technology developments and the IoT ecosystem and provided opportunities for them to exchange thoughts, making its activities highly anticipated.
The AWS team held several important seminars at the event, which not only introduced major AWS platform technologies and features but also shed light on new IoT development trends. The seminars received positive reviews and provided new perspectives on IoT applications and solutions as well as upfront observations on market dynamics.
The IoT is a target area where Taiwan has been engaging creative energies from governments, industries and academics over the recent years. Worldwide-leading cloud service providers are keen to bring their technologies and wide-range of solutions to Taiwan. By promoting and demonstrating a myriad of business models, they help give the Taiwan industry a direction for innovative applications. Among them, AWS plays a particularly important driving force to assist startups in Taiwan to burgeon, connect Taiwan with worldwide industries and help Taiwan develop its own IoT ecosystem and supply chain.
AWS hosted a four-day exhibit of IoT solutions and a series of IoT-themed seminars at North Lounge, third floor, Taipei International Convention Center (TICC). The company showcased AWS Greengrass, AWS IoT Enterprise Button and usage case examples of Alexa-based voice assistant services. AWS demonstrated its great ambition toward IoT services by giving a detailed introduction on the tools Alexa for Business provides. Furthermore, AWS also jointly presented IoT solutions with partners including ASKEY, CyberLink, LITE-ON, Microchip, QNAP, SMC, Tomofun, wiAdvance, ZYXEL and NETFOUNDRY.
A superb collection of solutions were on display, including wiAdvance's smart healthcare solution which uses the AWS platform to realize an AI-based system helping doctors read MRI or CT scan images and make diagnosis on brain or liver tumors.
ASKEY's car fleet management system is software-hardware-integrated solution that combines with a LTE communication module, GPS and camera systems to provide management and services for the cars on the road.
U Webinar introduced by CyberLink is a live video streaming system for businesses to conduct remote presentations and training sessions. It allows enterprises to easily stream live video using computers, smartphones or tablets anytime anywhere.
ZYXEL looks to enhance business operation efficiency from the perspective of network equipment. As enterprises generally have a large number of management reports and information security log files from their network equipment such as firewalls and gateways, it consumes a great amount of time and effort to manage the data. Leveraging AWS technologies to allow businesses to manage the data over the cloud, convenience and efficiency are significantly improved and information security is guaranteed.
Focusing on video surveillance systems for use by individuals or small businesses, SMC also aims to enable convenient and easy-to-use cloud-based platforms. The recorded video footages are saved on the cloud side and multiple intuitive control functions and applications for different use scenarios are available.
There was also a demonstration combining solutions from LITE-ON and QNAP. LITE-ON brought forward a range of applications combining different sensors with Lora or NB-IoT wireless communication modules. The gathered data including temperature, humidity and other important parameters measured for a factory working environment was sent to QNAP's NAS system, which was integrated with AWS edge computing to deliver data analysis services for automation control or process monitoring.
NETFOUNDRY, a subsidiary of India's Tata Group, enables companies building IIoT or industrial applications to tap AWS IoT Analytics services over fast network connection and complete security architecture. Additional AWS-enabled products on display at Computex this year included Astra's face recognition solution, Tomofun's pet camera and Microchip's security ICs.
All these solutions and products on exhibit make use of important technologies available on the AWS platform. Built for a variety of applications, they demonstrate a wide range of examples of how the industry can use IoT to create more innovations and business models. With the partnerships, AWS, although is centered on providing platform technologies and services, is still able to observe any new application development in an open mind and this is also serving as a driving force pushing AWS forward. This is the mutually beneficial and win-win IoT business model that people speak commendably of.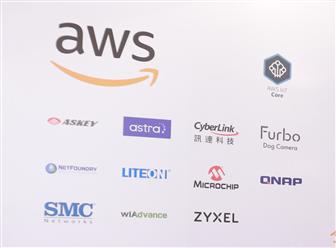 Engaging partners in Taiwan, AWS creates new IoT opportunities
DIGITIMES' editorial team was not involved in the creation or production of this content. Companies looking to contribute commercial news or press releases are welcome to contact us.