ADLINK Technology Inc, global leader in edge computing, launched the NEON-2000-JNX series, the industry's first industrial AI smart camera that integrates the new NVIDIA Jetson Xavier NX module. The new camera's high performance, small form factor and ease of development open the door for innovative AI vision solutions in manufacturing, logistics, retail, service, agriculture, smart city, healthcare and life sciences, and other edge applications. The camera is an all-in-one solution, eliminating the traditional need for complex integration of the image sensor module, cables, and AI box PC.
The NVIDIA Jetson Xavier NX provides more than 10X the performance of its widely adopted predecessor, NVIDIA® Jetson™ TX2. The NEON-2000-JNX series integrates this performance in an all-in-one rugged and compact device, designed to simplify the deployment process and speed up the time to market.
"Until now, a typical AI vision solution required a complex integration of the image sensor module, cables and GPU modules. This ready-to-develop edge AI smart camera reduces the effort of software/hardware integration and reliability validation, allowing AI vision developers to focus on application development. The NEON-2000-JNX series is a hassle-free, compact, reliable and powerful product for edge AI applications, and also the best match for AI software providers," said Kevin Hsu, Senior Product Manager of ADLINK's IoT Solutions and Technology business unit, ADLINK.
"AI-driven machine vision is reshaping entire industries from robotics and retail to healthcare, manufacturing and more," said Murali Gopalakrishna, Head of Product Management, Autonomous Machines and General Manager for Robotics at NVIDIA. "With the ADLINK smart camera kits powered by the Jetson edge AI platform, developers get an integrated, easy to deploy solution for AI vision-based embedded and industrial AIoT applications."
The NEON-2000-JNX Series comes with all necessary components and an optimized OS already integrated and well validated.
*Supports six sensor configurations in total between 1.2M-8M to deliver raw data and complete image detail for machine vision, including four image sensors with Basler.
*Two new MIPI image sensors reduce CPU loading and support a higher operating temperature range.
*An embedded Image signal Processor (ISP) provides enhanced and environment-adaptive imaging to improve AI accuracy.
*Integration overcomes EMC/EDS/vibration/thermal problems, interface compatibility, image drops caused by fault camera and OS settings, and other common reliability issues.
The NEON-2000-JNX series AI smart camera is pre-installed with ADLINK's new edge vision analytics software, EVA SDK (Edge Vision Analytics Software Development Kit), creating an optimized platform that reduces proof-of-concept (PoC) schedules and speeds time to market.
*Wide selection of field-ready application plug-ins and ADLINK-optimized AI models guarantee AI vision quality and simplify building AI vision applications with limited coding required.
*Pre-view function makes the verification of AI Inference flow and results quick and intuitive.
*AI developers, even newcomers to AI, can focus on the application and training and build a proof of concept in as few as two weeks.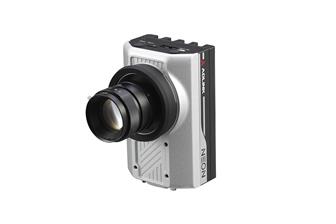 Adlink launches industry-first Nvidia Jetson Xavier NX-based industrial AI smart camera