Consumer demand for higher audiovisual quality is driving the evolution of technologies behind LCD displays. Specifically, mini-LEDs, with their superior contrast and color gradation performance, have emerged in the field of display backlights. With a strong R&D foundation in the field of mini-LED technology, Macroblock recently launched a series of mini-LED backlight driver ICs that correspond to various LCD display sizes. According to Chris Chen, Macroblock backlight product manager, the company can help clients create the most suitable products tailored to the needs of different groups in the market.
Chen further stated that while the earliest backlighting in LCD displays used cold cathode fluorescent lamps (CCFL), companies later switched to LED-backlit for their purer white lights that enhance the color gamut of the display. In recent years, breakthroughs in mini-LED technology have also led to companies attempting to adapt mini-LEDs to be used as backlight despite the higher costs. The newest iPad Pro released by Apple in April 2021 also uses this technology, anchoring the status of mini-LEDs in the backlight market.
By looking at the actions taken by Apple and other companies, Chen mentioned that mini-LEDs may well become the mainstream technology for LCD display backlighting, driving an increase in market demand accordingly. In response to this trend, Macroblock has released a series of backlight driver IC solutions for small- to medium-sized and medium- to large-sized LCD displays.
Chen also pointed out that small- to medium-sized LCDs tend to be found on consumer products like laptops and tablets with limited interior space and shorter product development cycles. Therefore, the Macroblock MBI6322 integrates peripheral components like the built-in switch (MOSFET) into a single unit. The integration simplifies the internal PCB design, reduces the overall cost, and lowers the error rate during PCB mounting. Another benefit of a design with more integrated wiring and layering is that it cuts down on the PCB layout review time during product development. Furthermore, engineers can choose from commercially available timing control ICs or bridge ICs compatible with the MBI6322 to control the dimming signals of the mini-LED panels without the need for an MCU, keeping the small- to medium-sized LCD displays thin and elegant.
Besides driver ICs with integrated MOSFETs, Macroblock also offers designs without this integration. This type of design can be further divided into two other types based on whether the driver IC itself still controls the external MOSFET. The MBI6334 and MBI6353 are two types of driver ICs that can control the external MOSFETs. The MBI6334 is the same as the MBI6322 in that they are primarily used to control the backlighting in small- to medium-sized LCD displays without the need for an external MCU, saving potential software coding time. The MBI6334 also utilizes rectangular BGA packaging and is compliant with the Video Electronics Standards Association's (VESA) recommended regulations for timing control circuit boards of laptop, making it a perfect fit for narrow PCBs. On the other hand, the MBI6353 is primarily used in medium- to large-sized LCD displays. Its high-current tolerant design makes it suitable for lighting boards with a large number of LEDs connected in parallel such as TVs, PIDs, monitors, etc.
There is also the MBI6328 which has external MOSFET that is not controlled by the driver IC. The MOSFET is instead controlled by a MCU. Macroblock is currently working with various MCU manufacturers to ensure smoother product development. The MBI6328 is a driver IC suitable for medium- to large-sized LCD displays with more than 1,000 dimming zones that allow displays to provide ultra-fine HDR effects. Moreover, the high voltage tolerance of the MBI6328 allows it to be used when multiple backlight LEDs are connected in series.
Lastly, Chen indicated that Macroblock not only has a strong R&D foundation regarding mini-LED backlighting, the company is also working with Elan Microelectronics to build a complete industry ecosystem. With support from partners in different fields, Macroblock plans to expand the applications of its mini-LED backlight driver ICs to areas like vehicles, laptops, and tablets. The company also provides comprehensive after-sales services to help customers shorten their development time and create high-quality LCD displays that meet market demands.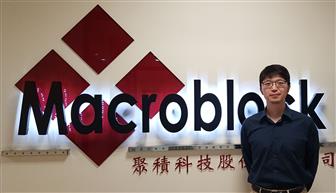 Chris Chen, Macroblock backlight product manager, pointed out that mini-LEDs will become a mainstream technology for LCD display backlighting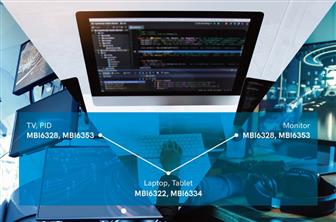 Macroblock's mini-LED backlight driver ICs are designed for various LCD display sizes and can help clients create the best products

Different LCD displays require special backlight driver ICs with varying designs