As COVID-19 continues to hamper international interactions, two startups from the US and France collaborating with BE Health in Taiwan have closed venture capital funding rounds recently with more than US$14 million in total successfully. BE Health leverages the unique strengths of its thriving ecosystem to position the accelerator as the gateway to Asia under Taiwan Tech Arena (TTA)'s support for both local and international startups.
Applaud Medical is a clinical-stage company based in San Francisco; the company's device addresses the painful condition of kidney stones, with an innovative, non-invasive treatment, allowing urologists to effectively treat 5-15-millimeter stones with a simple outpatient procedure. Applaud Medical just completed US$11 million fund raising, the recent investment will aid in expanding the company, as well as broaden and accelerate product development. As an investor and strategic partner, BE will work with Applaud Medical consistently for their future expansion to Asia, and to conduct clinical trials in Taiwan and Asia to increase product's market traction.
RDS, a developer of a wearable health tracking device which continuously measures vital sign parameters, announced that it has closed their Seeding Round of EUR3 million (US$3.67 million) in the first quarter of 2021. The fund raised in the Seed Round will be used to accelerate the industrialization and CE/FDA approval phases. Being the only two shareholders from the east, BE and Taipei Medical University are both thrilled to be its partners. To enable RDS to validate the concept faster and high-quality prototype-making, BE Health will take advantage of Taiwan's powerful ICT resources to assist RDS to finish the prototype.
Taiwan can help, and Taiwan is helping. Taking an important role in global healthcare ecosystem, Taiwan is aware of its obligations to help the world create a better environment. With Taiwan's extraordinary manufacturing, hospital resources and strong ecosystem, BE Health assures to serve as the gateway to Asia that will help entrepreneurs to drive growth in Asia on a global focused scale.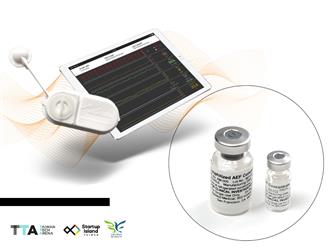 Applaud Medical and RDS collaborate with BE Health, closing venture capital funding rounds recently with over US$14 million in total.
Photo: BE Health, June 2021