E-paper display maker E Ink Holdings is expanding production capacity for micocup FPL (front panel laminate) film at its factory in northern Taiwan, according to company chairman and CEO Johnson Lee at a March 18 investor conference.
For the capacity expansion specifically, E Ink raised its capex for 2021 to NT$1.4-1.6 billion (US$49.6-56.6 million), up from 2020's NT$700-800 million, Lee said. The expansion will be gradually completed during 2021-2023, with schedule hinging on market demand for e-paper displays, Lee noted.
Demand for e-readers, e-notebooks, electronic shelf labels and e-signage significantly increased in 2020 in the wake of the coronavirus pandemic with E Ink enjoying a sharp increase in e-paper display orders in 2020, Lee indicated.
E ink has partnered with e-paper display module suppliers, such as China-based Yes Optoelectronics and Microview Electronics (Shenzhen), to broaden the applications of e-paper.
E Ink has launched Spectra 3-pigment (black, white, red or yellow), an e-paper used in electronic shelf labels; Gallery Palette, a panchromatic e-paper used in advertising signage; and Kaleido, a color e-paper used in e-readers and e-books. E Ink also began to ship Kaleido Plus, a new-generation of Kaleido series displays featuring better text rendering, brighter color and triple color gamut. The Kaleido Plus has already obtained orders for 7.8-inch e-readers and e-notebooks.
E Ink posted consolidated revenues of NT$15.363 billion, gross margin of 45.71%, operating profit of NT$1.847 billion, net profit of NT$3.603 billion, net EPS of NT$3.18 for 2020, and has decided to distribute a cash dividend per share of NT$2.70 for the year.
E Ink has reported consolidated revenues of NT$1.356 billion for February 2021, decreasing 13% on month but hiking 102.81% on year, and those of NT$2.915 billion for January-February, growing 77.18% on year.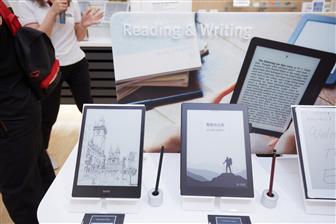 Demand for e-readers and e-notebooks continues picking up
Photo: Digitimes file photo