Production lines running around the clock and operators working hard all the time is what the general public thinks of the manufacturing industry. Different from the general impression, a thermal solution provider based in Taoyuan lets employees take time off to donate blood, volunteer for charity work, buy books, recharge their motivation, run a marathon and all sorts of outdoor or other types of activities that promote their physical and mental wellbeing. This firm making others green with envy is T-Global, which has received Benefit Corporation certification four years in a row.
Since its establishment in 2003, T-Global has been attaching importance to employee benefits, corporate social responsibility and sustainable operation while accumulating technological strengthen and sales experience. It has become a thermal engineering expert specializing in heat dissipation, conduction and resolution and serving more than 4,000 customers worldwide that think highly of its refined and complete range of thermal products and services. T-Global led the industry in developing thermal interface materials with thermal conductivity exceeding 17 W/m.K, which, combined with niche products with differentiating features such as ultra-thin vapor chamber (< 0.3mm) and thermal putty, are catching attention in the 5G and electric car markets.
Fostering a team of thermal engineers to provide heat dissipation consultation services
Starting out as a thermal interface material supplier, T-Global then expands its product R&D into vapor chambers, heat pipes and heat sinks in view of technological advances driving increasing heat dissipation needs that can no longer be satisfied by thermal interface materials alone. It therefore combines different products into heat dissipation modules to help customer quickly resolve thermal problems.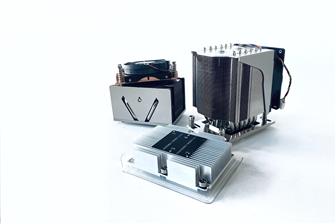 T-Global specializes in combining thermal interface materials, vapor chambers, heat pipes and heat sinks to build thermal modules perfectly matching every customer need
According to T-Global chief marketing officer Gang-yuan Fan, aside from exerting efforts to expand its product portfolio, T-Global has also invested in thermal simulation software and built up a thermal engineering taskforce. This enables T-Global to guide customers on an assessment of the thermal conditions when and where their products will be in operation through thermal simulation and analysis as well as the T-Global thermal engineering team's consultation services early in the product development cycle. This saves customers from wasting time and effort and helps them quickly find the ideal solution, then proceed to pilot run and volume production and accelerate time-to-market.
Today T-Global has become one of the very few suppliers of total products and services to the global thermal solution industry. With an established market presence, it has many success stories spanning across different sectors, which have drawn new customers to seek T-Global's consultation services to help address their challenges with a suitable product combo they can use. T-Global engineers will take into consideration the customer's product size, operating environment, objective thermal conductivity, withstand voltage and resilience. Then, they will conduct thermal simulation and analysis to find the best solution to the heat dissipation bottleneck and build a thermal module perfectly matching customer needs by combining thermal interface materials, vapor chambers, heat pipes and heat sinks.
It's noteworthy that T-Global has made a lot of efforts to lay a solid foundation on which it can build up strong research and manufacturing energy. For years, it has engaged in industry-academia collaborations with Industrial Technology Research Institute, National Taiwan University, National Tsing Hua University and National Taiwan University of Science and Technology to keep refining its thermal technologies while undertaking forward-looking product planning and preemptive R&D work. In the meantime, T-Global initiated a project to build a new central factory in 2017. After going through a reiterative planning and discussion process and investing hundreds of millions of dollars, T-Global completed and opened the new factory building having eight floors above the ground level and a basement in 2019.
"The new central factory incorporates state-of-the-art process technologies and equipment, which will help enhance T-Global's large-scale manufacturing capabilities," noted Fan. More than that, the new central factory also has many laboratory grade test devices or instruments, which, coupled with thermal simulation software, can help R&D engineers validate prototypes and allow customers to conveniently and quickly verify product reliability without having to spend extra time and money acquiring services from third-party laboratories.
Large-scale production and in-house testing capabilities have enabled T-Global to shorten its lead time to 18 - 22 days, a significant improvement over the 30-day lead time commonly seen in the industry.
Furthermore, T-Global has obtained ISO9001 Quality Management System, ISO14001 Environmental Management Systems, IECQ QC080000 Hazardous Substances Process Management and IATF 16949 Automotive Quality Management System certifications. Its products also comply with UL, RoHS and REACH regulations so users can rest assured of T-Global products' quality and reliability.
T-Global getting ready to usher in major growth opportunities with forward-looking R&D planning generating results
As a matter of fact, T-Global foresaw rising 5G and electric car opportunities many years ago and the upcoming immense needs to address thermal issues so it undertook early R&D planning and has prepared corresponding solutions targeting the two areas that are at the center of market attention today.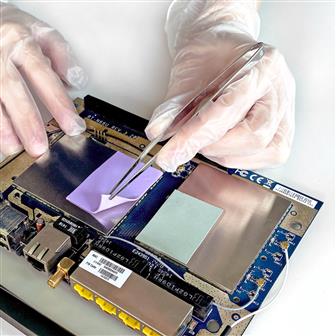 Based on its R&D strength accumulated through years of efforts, T-Global has developed a diversity of ultra-soft thermal pads supporting wide-ranging thermal conductivity to address different application scenarios
Today's 5G market presents raging waves of opportunities with base stations being rolled out worldwide and purchases of cloud servers and network communication equipment on the rise. T-Global has maintained long-term close partnerships with server and network communication equipment manufacturers. They had been using T-Global's mid-range and high-end products to address thermal issues in the 4G era. Heat dissipation in 5G equipment becomes ever more challenging and can no longer be satisfied by mid-range and high-end products used in the 4G era. In response, T-Global has developed ultra-thin vapor chambers and thermal interface materials with thermal conductivity exceeding 17 W/m.K (6~10 W/m.K was sufficient for 4G equipment) to enhance heat dissipation efficiency and effectively prevent thermal shutdown of 5G equipment.
Electric cars require rigorous thermal solutions for their battery packs, electronic control systems, in-vehicle infotainment and charging stations. T-Global has stepped up efforts to develop products to address individual requirements by the different elements of electric car systems. It first endeavors to satisfy 70% to 80% of the thermal requirements and then deals with the remaining part through customization to suit specific cases.
Everyone knows the battery module is the heart of the electric car, said Fan. Heat is generated during the charging and discharging process so proper thermal engineering is critical to battery life and charging/discharging efficiency. T-Global is capable of tailoring the most suitable thermal solution for every battery module based on its size. For example, for a battery brand with a leading share of the electric car market, T-Global applied thermal putty to fill the gaps between the main control board and battery cells and then spread thermal pads on top of the battery cells to create excellent heat conduction efficiency that transfers waste heat from the battery cells to the battery module casing for heat exchange.
Thermal issues in electronic devices will become increasingly challenging going forward. They can hardly be addressed with a single heat dissipation product but require a combination of products and services. This presents favorable circumstances to T-Global, which offers thermal simulation services and a complete product mix while specializing in building customized modules.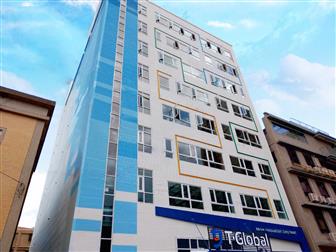 T-Global takes pride in being a thermal engineering partner committed to delivering a complete and comprehensive range of thermal products and services to help customers tackle all thermal issues
DIGITIMES' editorial team was not involved in the creation or production of this content. Companies looking to contribute commercial news or press releases are welcome to contact us.