Face recognition is not only the most talked about application of artificial intelligence (AI) technologies but also a key AI strength indicator of the tech heavyweights in the global arena. A face recognition application takes in a database containing millions of faces, based on which a machine learning model is trained for use in access control or attendance management systems. It is growingly applied by government agencies, banking institutions and service industries.
CB Insights' Artificial Intelligence Trends 2019 report identifies face recognition and edge computing as the two major trends with the most market strength and high industry adoption, even surpassing autonomous driving at the center of the automotive market's attention. The disruptive innovations to be enabled by face recognition applications are exciting. Papago chairman Liang-Yi Chien is well aware of how rapidly face recognition technologies and applications expand in the B2B market segment.
Papago began to develop its face recognition engine in 2016. The 100% locally developed platform based on its own modules and algorithms is called "Face8," which won the 2019 Taiwan Excellence award. Integrated with customers' application programs or software, Face8 has been powering wide-ranging smart solutions to support a variety of application requirements. These solutions are being used by banking institutions, fitness clubs, construction companies, hundreds of small and medium-sized enterprises and government agencies for access control, VIP customer service and a slew of other applications.
Two main advantages help Face8 broaden its application scope
According to Chien, building Face8 as a technology core, Papago further enhances its capability for system integration to enable better end-product performance. Face8 is able to bring a large number of face recognition applications to reality and create lucrative business opportunities based on two major advantages. The first is that Face8 is built on top of a strong AI technology foundation. It has been qualified by National Institute of Standards and Technology's Face Recognition Vendor Test. It outperforms world-class vendors in the 1:1 and 1:N tracks and is highly praised by its partners and system integrators, Chien said.
The second advantage is Papago's one-stop system integration service. The software engine can only realize its benefits on top of hardware systems so only through close collaborations will the integrated solution deliver maximum performance. For example, in the case of a face recognition system for use at a fitness club, the system has to conduct training on a local database containing millions of faces as required by the customer. A face recognition process that takes one to two seconds to complete would be unacceptable to a fitness club where many members enter and exit frequently. To address this, Papago leverages edge computing to capture images and extract features, which are then sent to the cloud for identification. This reduces the time of the recognition process to 0.2 second. The impressive performance not only pleases customers, but also makes Papago's face recognition technology the most widely adopted in Taiwan, Chien said.
Smart City Development Project Office helps Face8 expand into Southeast Asian markets
With the assistance from the Smart City Development Project Office, Industrial Development Bureau (IDB), Ministry of Economic Affairs (MOEA), Papago looks to expand the market footprint of Face8 into Southeast Asia. Chien attributes the major progress Papago has made to IDB's role in facilitating capital acquisition and technological development. The first successful project made possible through IDB's assistance is a partnership with a Malaysian distributor and system integrator to build a face recognition system for use at a learning center. In addition to authenticating registered members of the learning center, the system can also identify the parents who drop off and pick up primary and middle school students at the learning center, setting an exemplary use case of security applications.
Face8's debut in Malaysia will demonstrate Papago's strength to other countries in the region including Singapore, Vietnam and Thailand, facilitating its developments in Southeast Asia. Papago has established market presence and brand image in Southeast Asia with its automotive GPS navigation system for many years, Chien said, adding Papago will fuel new energy into its operation in the region by offering services enabling higher levels of customization with Face8.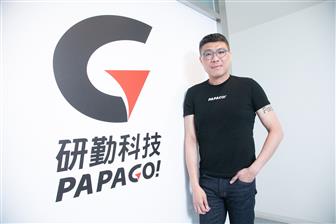 Papago chairman Liang-Yi Chien
Photo: Sandy Du, Digitimes, September 2020